AP Racing Radi-CAL Competition Brake Kit (Rear CP9449/380mm)- McLaren 720S, 650S, 600LT, MP4-12C By Cicio Performance
Complete rear AP Racing by Essex Radi-CAL Competition Brake Kit for the McLaren 720S, 650S, 600LT, MP4-12C:
Weighs within 2 lbs. per side of the OEM carbon ceramic brake system
Retains OEM parking brake functionality
AP Racing Radi-CAL with durable, ventilated stainless steel pistons with anti-knockback springs
Allows for the preservation of pricey OEM brake components
Array of brake pad options from all major pad manufacturers
Fits OEM wheels without spacer
380x32mm, 72 vane AP Racing disc fits inside popular 19″ wheels
Every component designed to resist the heat of extended track sessions
Pistons sized properly to allow for seamless integration with OEM master cylinder and ABS system
Designed to work with our front Essex Designed AP Racing Radi-CAL Competition Brake Kit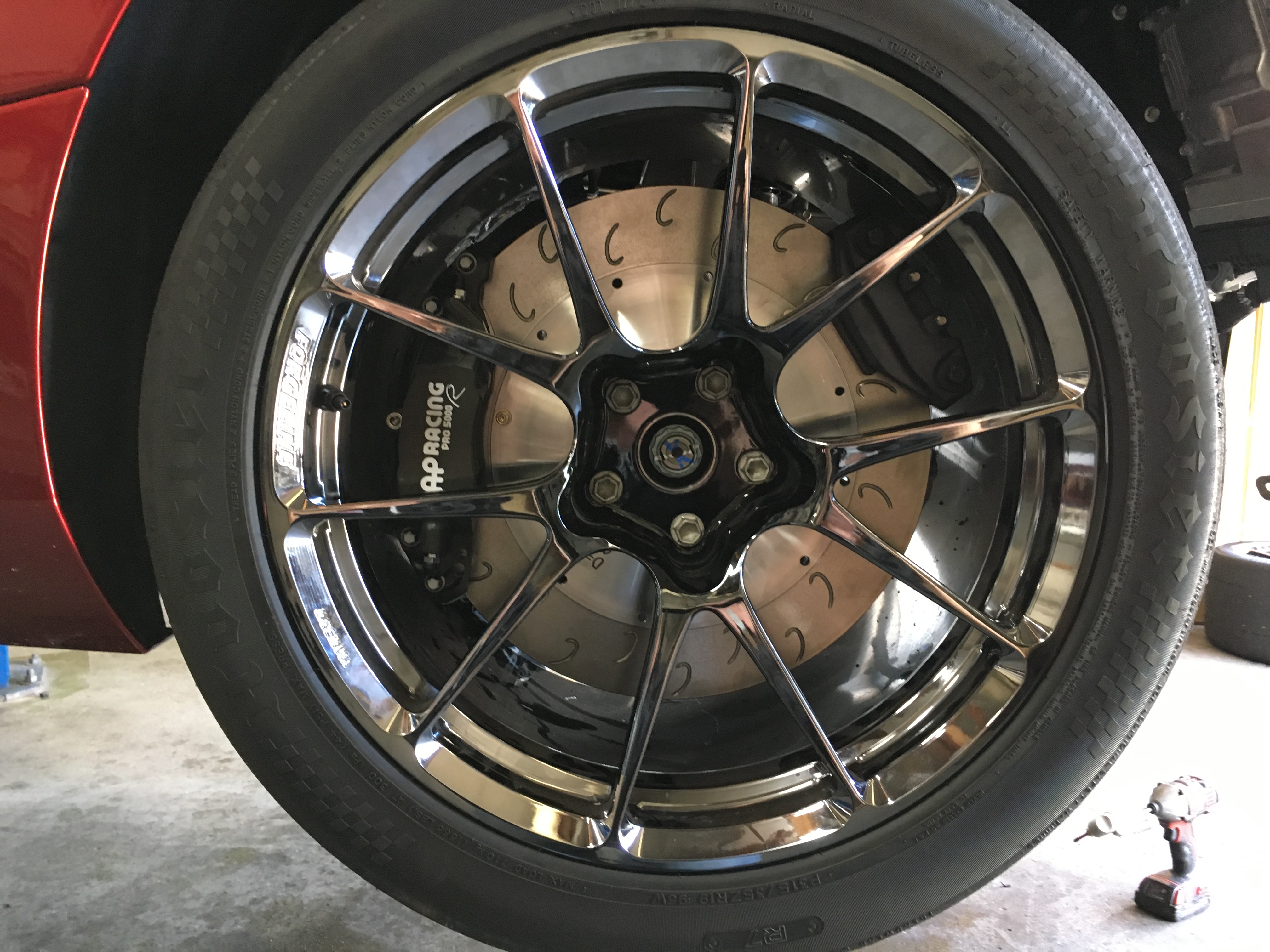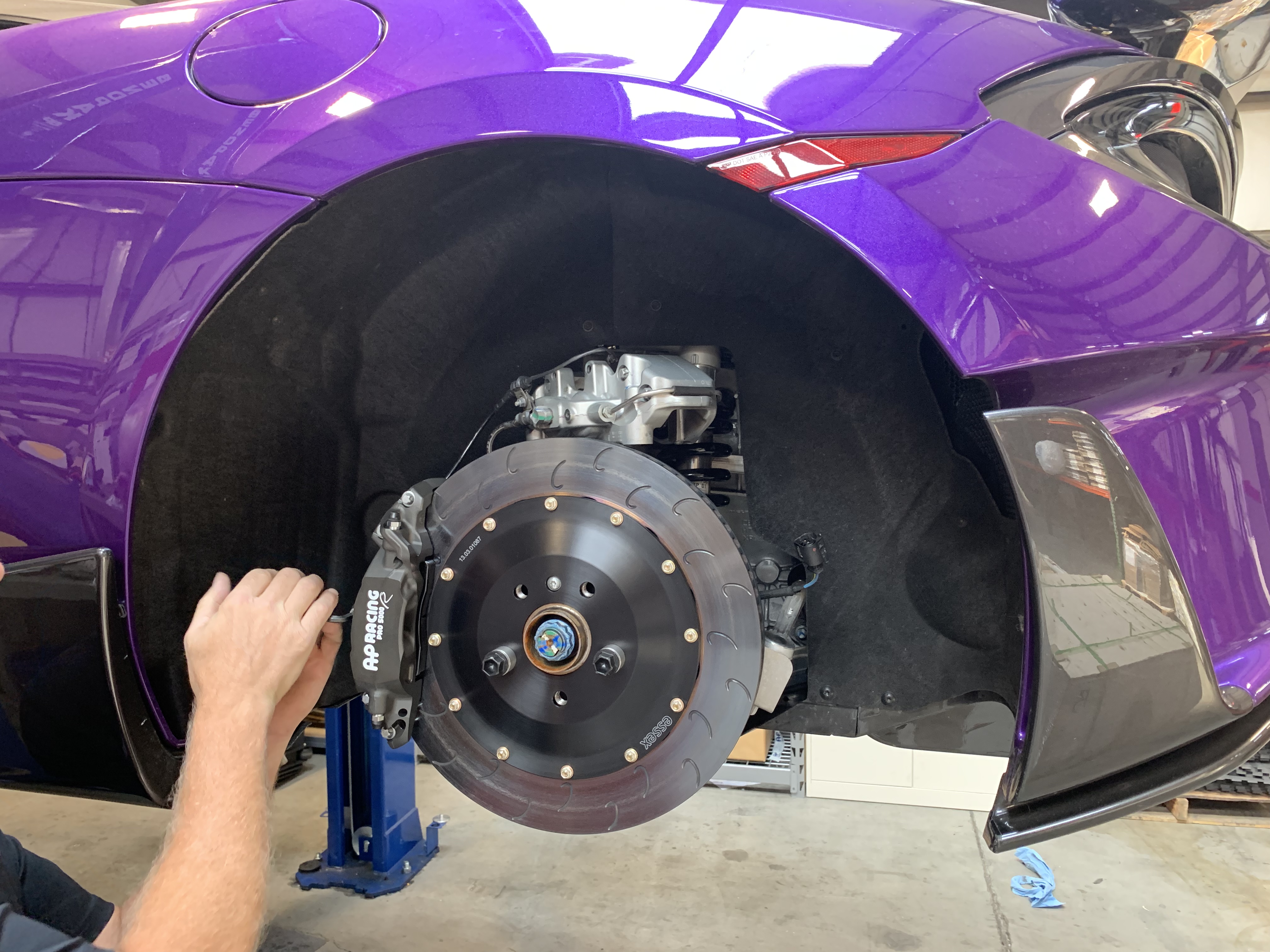 WHAT'S IN THE BOX?
One pair AP Racing CP9449 Radi-CAL Pro5000R racing calipers
One pair 380x32mm AP Racing CP5772, 72 vane, J Hook racing discs, with fully floating 6061 hard anodized aluminum hats and attachment hardware
One pair caliper mounting brackets and hardware
Detailed installation instructions
Brake pads are NOT included with our system. Racing brake pads are a highly personal choice. Many manufacturers include a set of inexpensive, low quality pads with their brake kits. Rather than artificially inflating the price of our system with a set of pads you probably don't want anyway, we've decided to remove the cost from our system and allow our customers to choose the pads that best suit their needs/wants. When purchasing our kit, you are able to choose one set of front pads at a substantial discount vs. the retail price. Please use the drop-down menu to select your pads.
Brake lines are NOT included with our system. The OEM brake lines are used.
RADI-CAL
"Radi-CAL" is a blanket term used to describe AP Racing's patented asymmetrical brake caliper design. Radi-Cal technology is grounded in Computer Aided Design (CAD) and Finite Element Analysis (FEA), and allows for organic, alien-looking designs that are a radical departure from conventional caliper designs of the past. Radi-CAL's are widely considered the pinnacle of current brake caliper technology. Since their inception in 2007, these revolutionary calipers have amassed a lengthy string of race victories at all levels of professional motorsport, while redefining brake performance expectations. For more details on the design concept and what these calipers have achieved in professional racing, please visit our blog and read The AP Racing Radi-CAL Story.
The key benefits of the Radi-CAL design:
Massive Stiffness Increase– A 30+ % increase in both static and dynamic stiffness vs. conventional calipers allows for far less deflection under load, which means superior pedal feel & modulation, more even pad wear, and longer caliper service life.
Considerable Mass Reduction– Removing all extraneous caliper mass lowers the caliper weight, despite the huge stiffness increases.
Optimized Airflow– Air moves around and through the caliper more efficiently, providing superior heat evacuation and cooling.
Efficient Packaging– The asymmetric caliper profile and internal fluid porting allows the caliper to fit into tighter spaces.
CALIPERS
CP9449 PRO5000R, THE EVERYMAN RADI-CAL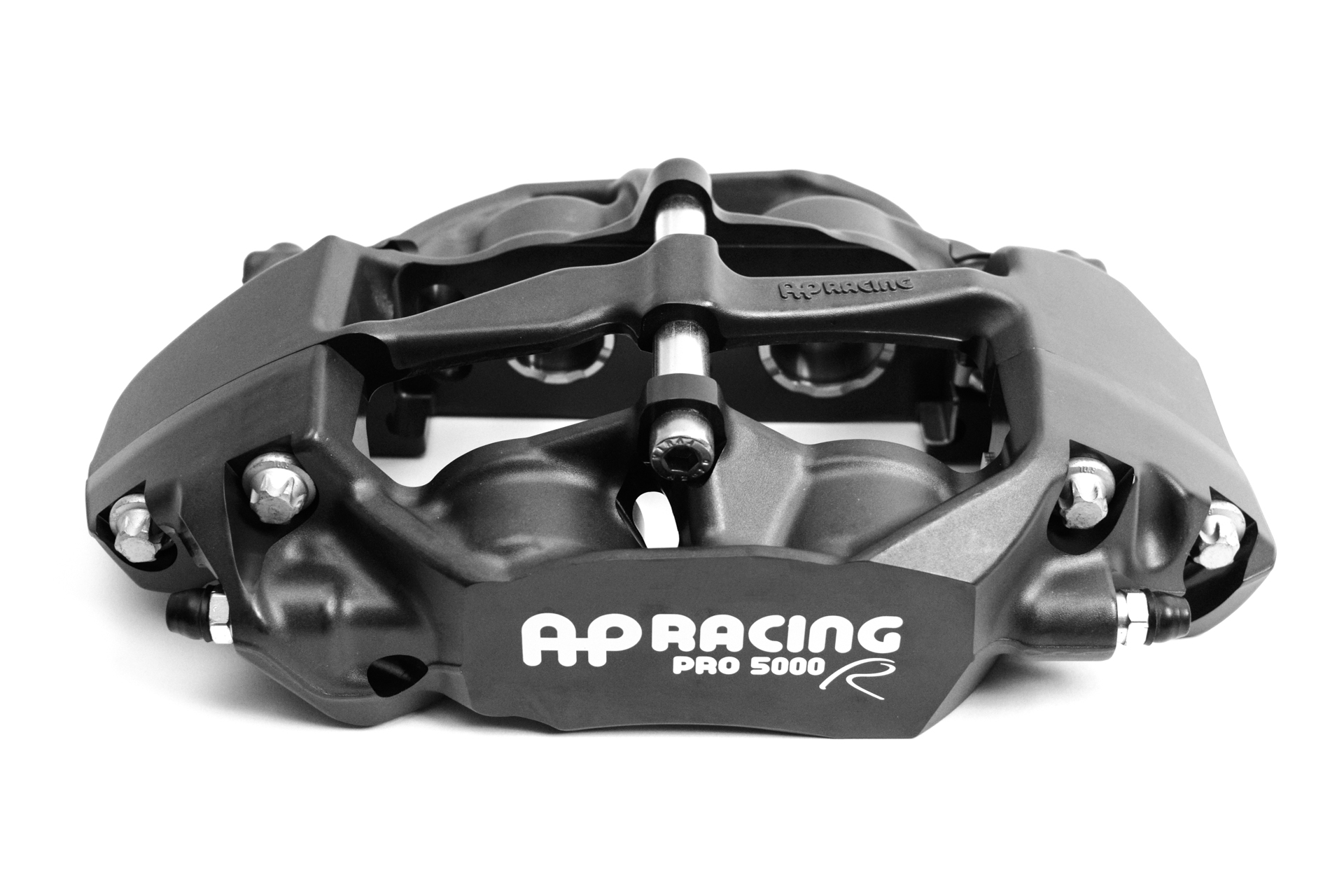 It has taken eight years, numerous generations of the design concept, and advancements in manufacturing techniques, but the Radi-CAL has finally evolved into a viable solution for racers and enthusiasts of all levels and budgets. While many products are supposedly born in racing, there can be no doubt about the Pro5000R pedigree. These calipers are direct descendants of the current crop of F1 and Sprint Cup calipers. They don't look ordinary, because they're not ordinary. They're the epitome of pure racing design: elegant, sparse, and brutally effective. And while they embody and employ the Radi-CAL design philosophy of the past, they also add some outstanding new features that enhance their practicality, convenience, and appeal. Quite simply, they are the lightest, stiffest, and most technologically advanced brake calipers that have ever been within the average enthusiast's grasp.
These intricate calipers have traditionally been machined from proprietary aluminum alloy billets. As one can imagine, machining away all of that material to achieve the final form is both time-consuming and costly. As a result, the price of these calipers has historically been prohibitive for the average club racer, time-trialer, or HPDE participant. Fortunately, the Pro5000R calipers use a new drop-forging technique that has dramatically lowered the manufacturing cost and the resulting price of entry, bringing this incredible technology to the masses.
Radi-CAL = Massive Dynamic Stiffness Increase
Over the years, many different strategies have been employed to shrink the brake caliper footprint while maintaining adequate stiffness: More robust caliper bridge designs, two-piece calipers with steel through-bolts, exotic materials (i.e. Beryllium, MMC), forging rather than casting, monobloc design, etc. All of these innovations pushed calipers towards becoming lighter, smaller, and stiffer. However, until the advent of the Radi-CAL, the same basic rectangular, boxy shape remained the accepted standard.
Is a rectangular box really the most appropriate and efficient shape for a brake caliper however? AP Racing has now proven that it is not. As a brake caliper clamps brake pads against a spinning disc, a tremendous tangential friction force occurs between the pads and the spinning disc. In other words, the caliper is pulled strongly in the direction of the spinning disc, as represented by the downward pointing arrow on the right side in Figure 1 below. The caliper resists that force via the spindle hard mounting points, depicted by the upward arrow on the left. The dynamic load placed on the caliper twists or pulls the caliper into a parallelogram shape.
Figure 1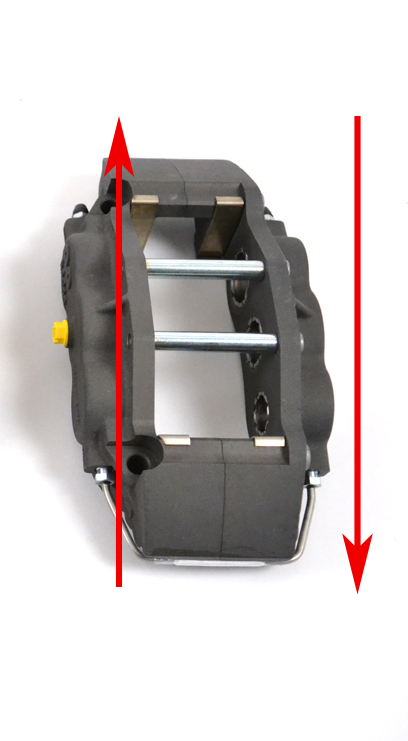 The dynamic force exerted on the calipers during a braking event is the key to the magic of the Radi-CAL design philosophy. Brake calipers of the past were designed to some extent in relative isolation from the forces that they were attempting to combat. They were designed to be the stiffest box possible while resting on a table, with much of the caliper mass residing at either end. The Radi-CAL is dramatically different because it was deliberately designed around the braking event forces that will be acting upon it. This is achieved by optimally distributing the body mass of the caliper on a diagonal, rather than at the two caliper ends. As such, the forces dynamically acting on the caliper are supported by the caliper mass, rather than what historically has been an empty box (see Figure 2 below). At the same time, this also allows for a significant reduction in overall mass, because all non-essential, non-load-bearing caliper body material is removed. So in the case of the Radi-CAL, it's not just about the material that is put into the caliper, it's about the material that is taken away!
Figure 2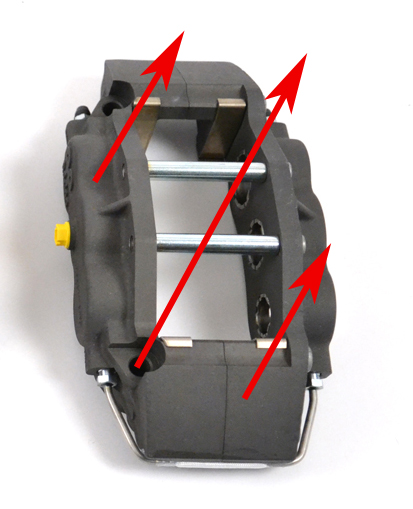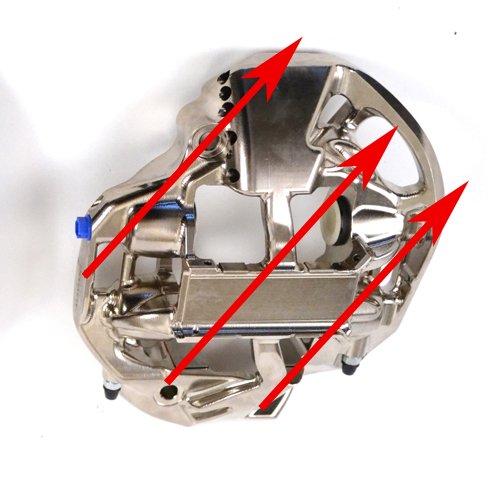 WHAT DOES THE ABOVE MEAN FOR YOU, THE DRIVER? IT MEANS A SIGNIFICANTLY FIRMER BRAKE PEDAL WITH SUPERIOR MODULATION UNDER ALL CONDITIONS. IT ALSO MEANS MORE EVEN PAD WEAR WITH LESS TAPERING, AND A LONGER CALIPER SERVICE LIFE.
Radi-CAL= Ultra-lightweight, Compact Design with High Airflow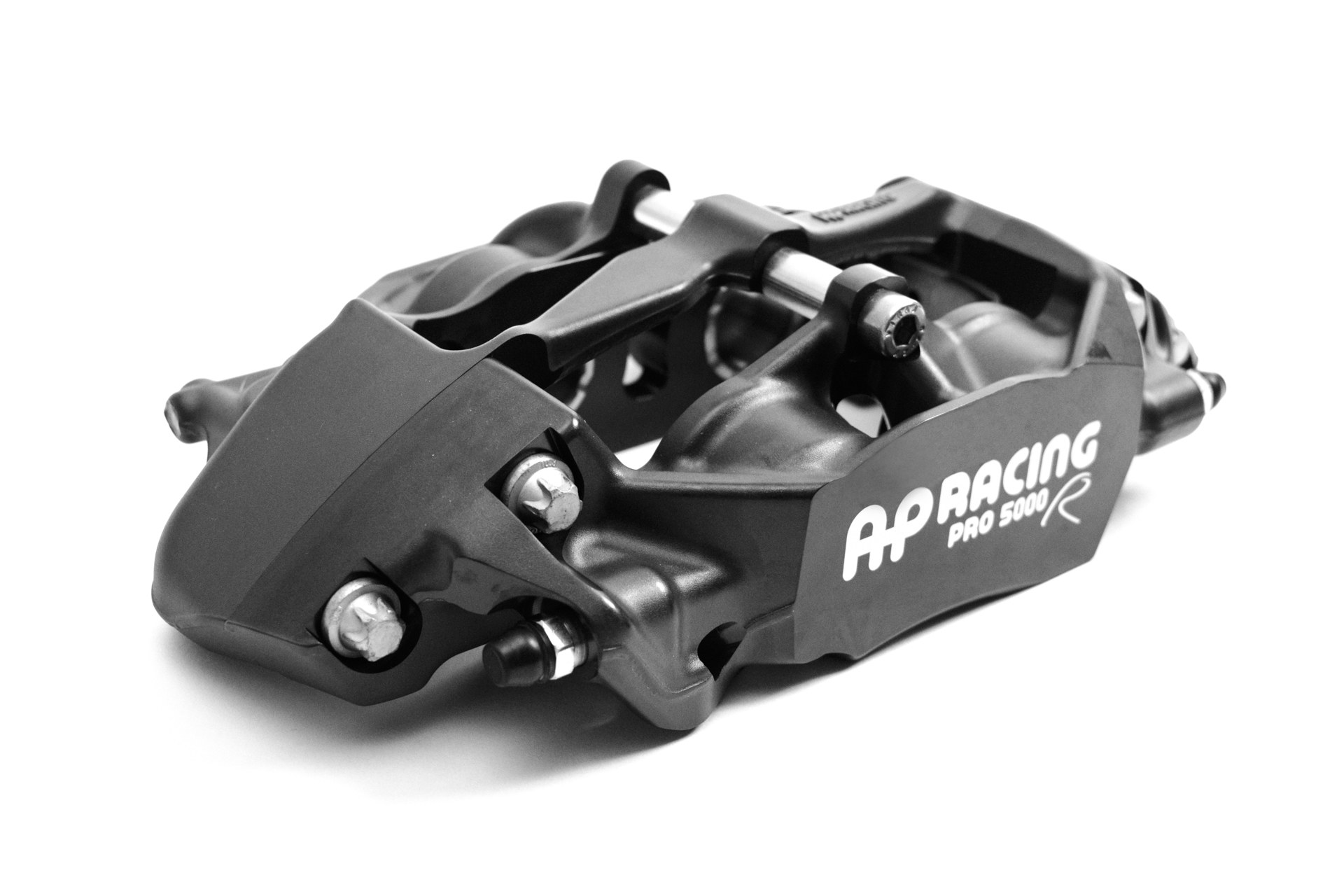 As mentioned above, the Radi-CAL design philosophy is just as much about what isn't there, as it is about what is there. The Radi-CAL design relocates caliper mass, creating voids that would traditionally not be located where they are. As such, considerable mass is removed from the body, and the entire envelope of the caliper is optimized. The result is an extraordinarily lightweight and compact footprint. Whereas many competing four piston calipers weigh in the 6-7 lb. range, the CP9449 weighs an astounding 4.85 lbs.!
The Essex mantra when designing brake kits has always been, "Anything larger than necessary to get the job done is simply dead weight to drag around," and the Radi-CAL aligns perfectly with those values. One of the major problems with many of the brake packages currently on the market is wheel fitment. You're offered gigantic discs and 12 piston calipers, with a pat on the back and a, "Good luck finding wheels to clear those things (insert sinister chuckle here)." The reality is that many casual racers want to use their OEM wheels on the track, or the smallest, lightest wheel they can find. Not only is saving unsprung weight critical, R compound tires are much more plentiful and cheaper for smaller wheels. If the components are designed properly with heavy use in mind, you don't need to cram boat anchors under your wheels. If you're worried about the loss of stiffness due to mass reduction, don't. Some manufacturers use a heavier four piston caliper, but that's because the caliper wasn't designed or optimized for racing. In those cases, the same caliper may have been designed for use on much heavier road cars, and even trucks! AP Racing's Pro5000R calipers are incredibly stiff, and designed from scratch with only the racetrack in mind.
Take a look at the caliper above or below. Anything else missing? Outer bleed screws and crossover tubes! The Pro5000R range has internal fluid porting and only two bleed screws located on the inner caliper half. That means that the chance of knocking a bleed screw or denting a crossover pipe during a wheel change virtually disappears. It also means that you now have half as many bleed screws to turn when changing your brake fluid. Eliminating the piping and bleed screws also allows the outer corners to be rounded, improving wheel spoke clearance.
Finally, take a look at area around the pistons in the picture below. Compared to a traditional caliper, far more surface area around the pistons is in contact with the cooling air surrounding caliper. As a result, the calipers have more airflow through and around them, lowering their overall operating temperatures.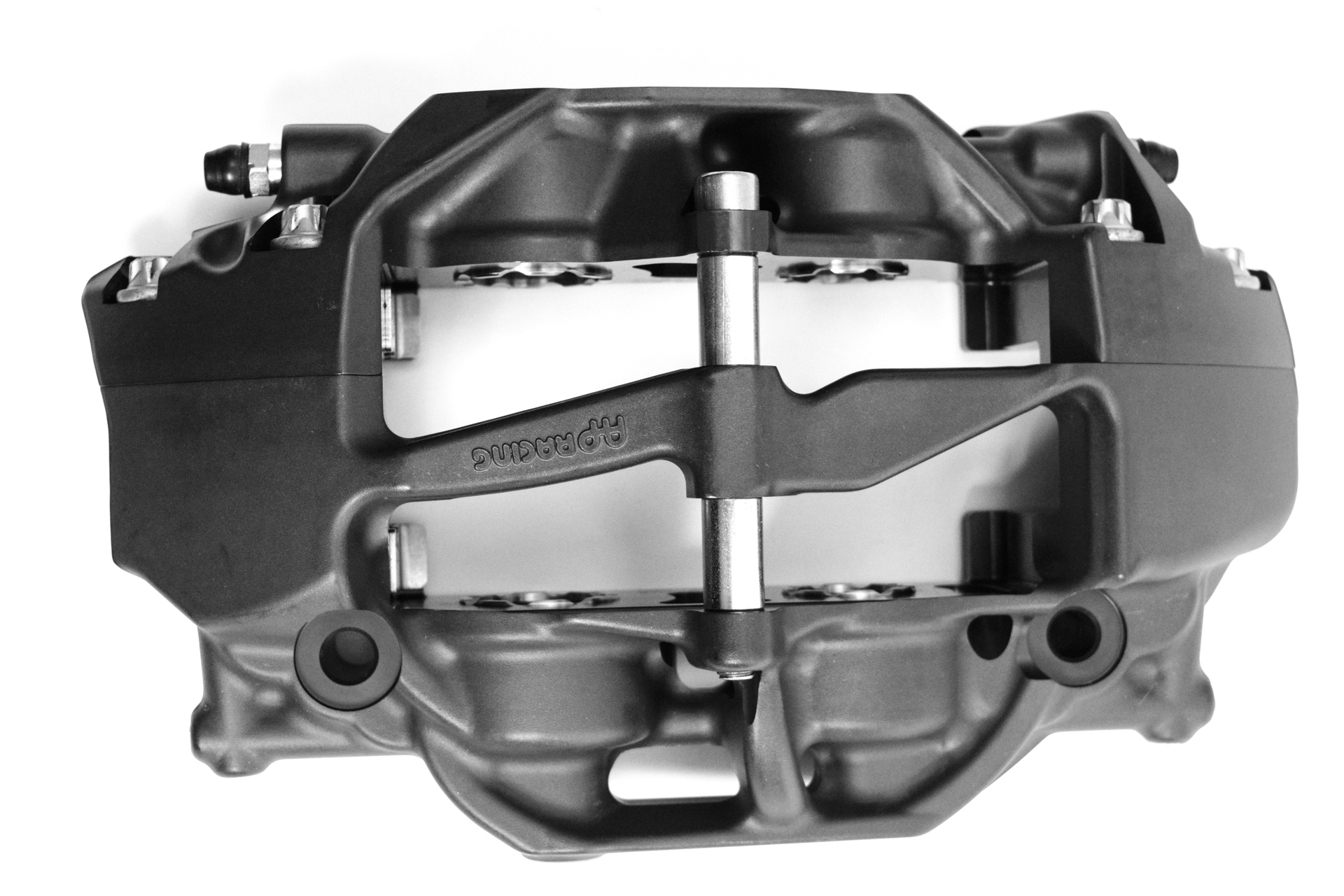 TWO-PIECE, DROP-FORGED CALIPER BODY
Radi-CAL's such as the one in the pic above have traditionally been machined from a single, solid block of proprietary aluminum alloy (monobloc). With a monobloc design, the piston bores and piston seal grooves can only be machined with a right angle machine tool (the tool must be inserted up and into the caliper). As one can imagine, machining away all of that material with special tools and multiple setups to achieve the final form is both time-consuming and costly. As a result, the price of monobloc Radi-CAL's has historically been prohibitive for the average club racer, time-trialer, or HPDE participant. The Pro5000R has been made possible by a newly developed 2-piece drop-forging process, which allows a conventional machine tool to access the piston bores via a direct path. The result is a drastic reduction in both production time and cost, while still retaining an incredibly stiff form.
Hard Anodized Finish
The first obvious weakness when looking at a typical aftermarket caliper is the finish. Most aftermarket calipers come in a painted finish, whether they are red, black, or gold. That painted finish is designed to look pretty and prevent corrosion in harsh winter environment. Unfortunately, for all of the compliments painted calipers generate, there is an associated price if you drive the car in a track environment. That price is the chipping, flaking, fading, color shift, and general degradation of that finish in a fairly short period of time. Some OEM calipers can go from the as-delivered color to a nasty shade of brown in as little as one weekend. While this is typically worn as a badge of honor among our more hardcore customers, let's face it…they still look terrible. More importantly however, all of those bits of paint end up in places they're not supposed to, which we'll get to in a minute.
Why does this happen? Heat. Paint and powder coat cannot adequately handle track temperatures. Powder coat also has some notorious issues with shrinkage. The powder coat layer expands and grows when the caliper is heated. When it cools, the powder coat doesn't necessarily shrink in step with the caliper body itself. What's left is a loose shell of finish hanging limply on the caliper body. That shell then cracks and falls to pieces.
Paint can also have similar issues depending on how it is applied. If you were to line up a few aftermarket calipers from the same manufacturer, you would likely see that the painted finish on each of those calipers is slightly different. Some have a thicker coat, some thinner, slightly different shades of red, etc. Painting is to some extent an art form, and must be performed in a tightly controlled environment. If it isn't, you're always going to see variation. A thick coat makes the part look soft around the edges, and is prone to cracking off in the same manner as the powder coat described above, leaving the underlying finish exposed. A part without enough paint will look uneven, and will not protect the underlying aluminum particularly well either. In addition to problems with cracking, flaking, and uneven application, paint and powder coat also experience extreme color shift when heated. Red becomes maroon or black, gold becomes brown, and black just gets uglier.
The calipers we are using in the Essex Radi-CAL Competition Kits are ultra-lightweight, stiff, and durable under all track conditions. The finish is a hard anodizing, which is the business under track conditions. When raw aluminum reacts with the oxygen in the air, a hard surface film develops on aluminum which prevents further degradation. The process is called oxidation, and you can think of it like rust. The anodizing process leverages this natural phenomenon, and takes it a step further to produce an extremely hard protective layer of aluminum oxide on the aluminum. It does so by running an electrical current through an acid bath, and dying it to the desired color. If you want to know more, Google it.
The result is a finish that is far more appropriate for racetrack use. Anodizing creates a uniform surface that is much more abrasion resistant than paint or powder coat. That means if you ding an anodized caliper with a box wrench when bleeding it, a big chunk of the finish isn't going to chip off into your hand. While anodized calipers will still exhibit color shift, it will take a lot more heat to get them to change, and they won't change as dramatically. More importantly though, you aren't going to have bits of anodizing sticking to the sides of your pistons.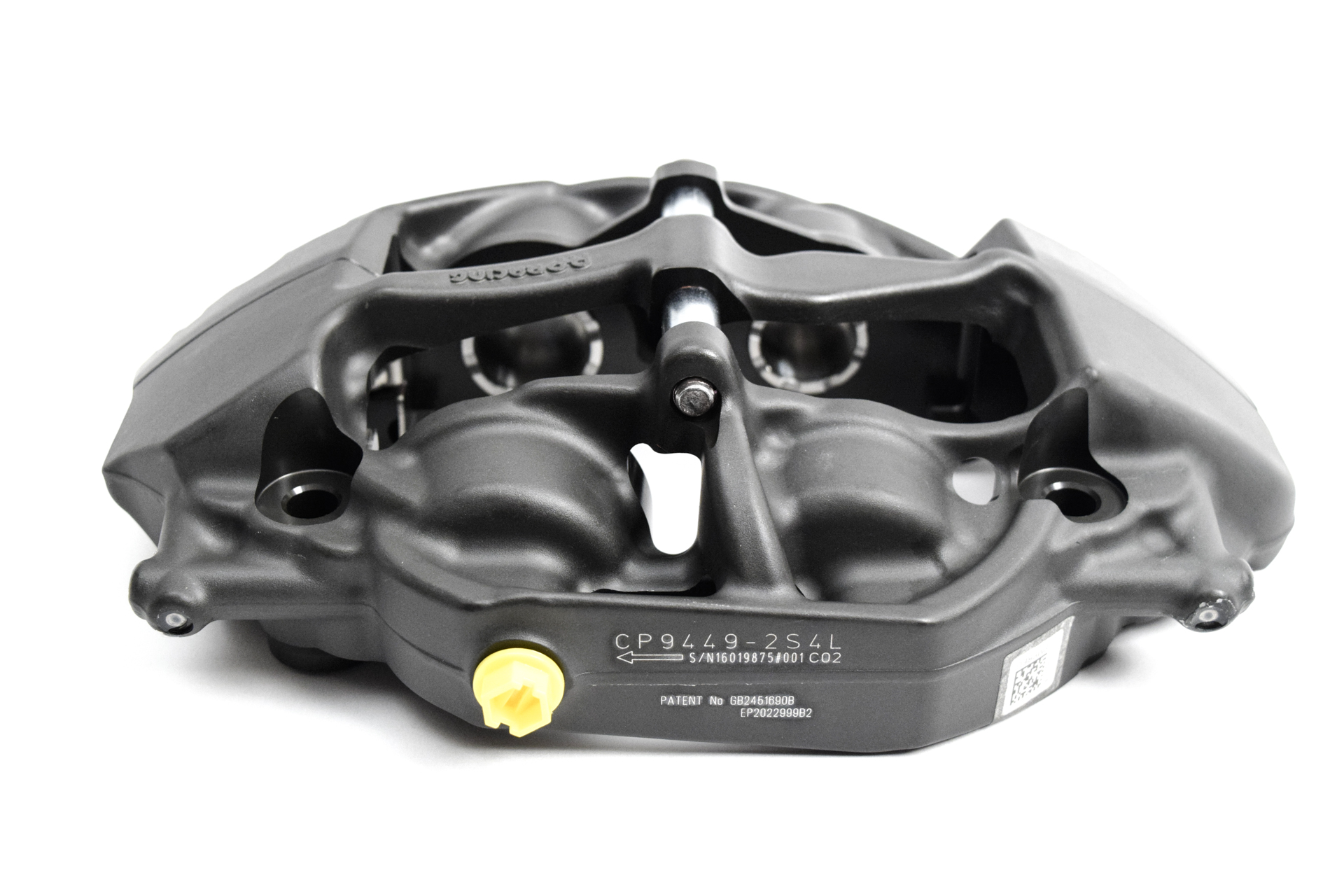 Brake Pads in A Commonly Available Shape
The basic pad shape for the CP9449 caliper was created by AP Racing many years ago, and is used by a wide range of racing calipers today. They're available in just about every popular racing compound on the market. That means you'll never end up in a pinch without pads.
Below is a drawing of the basic pad shape: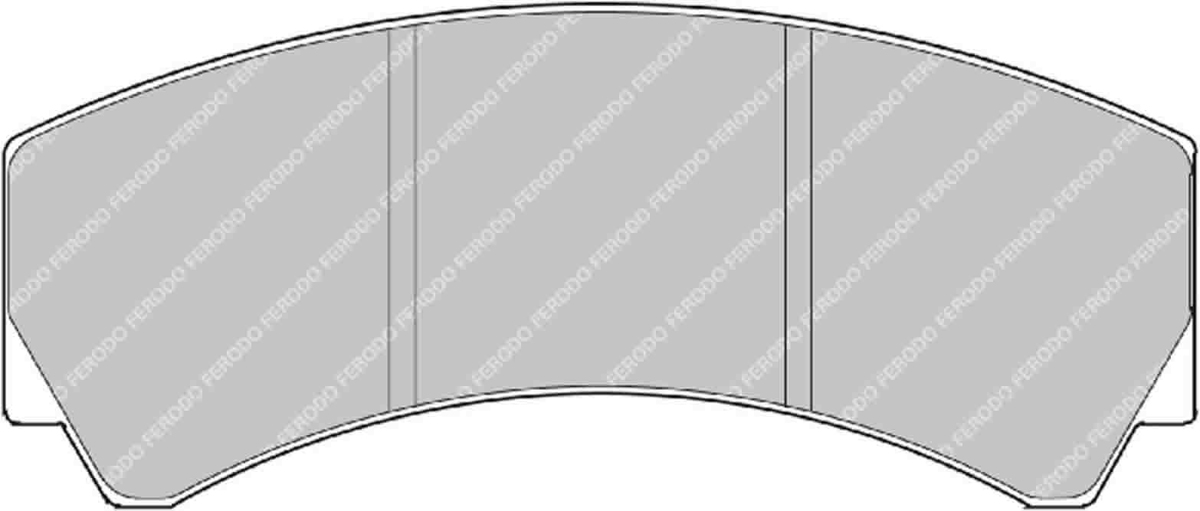 Dimensions= 132.4 x 50 x 16.7 mm
The pad shapes that will fit the CP9449 caliper can be found below. For the brands we sell, we have provided hyperlinks in the chart below to each of their compound offerings (CL Brakes, Ferodo, Hawk, Mintex). Many other manufacturers sell this same basic pad shape. However, they are frequently offered in a variety of radial depths (heights) and thicknesses. For Essex GT3 and GT4 rear applications, the pad must have a 16.75-17.0mm thickness and a D50mm radial depth. Essex cannot guarantee fitment for the brands we don't sell. We're merely offering these suggestions based on our research, and believe they are the appropriate part numbers. Prior to purchasing any of them, you should verify fitment with either the pad manufacturer or your installer/technician.
| | | |
| --- | --- | --- |
| Manufacturer | Shape Number | Compounds: Click Each Below to View and Purchase |
| Alcon | | |
| AP Racing | CP3215D50 | |
| Brembo | B52 | |
| Carbotech | | |
| Circo | | |
| CL Brakes | 5004W50T17 | RC5+, RC6E, RC6, RC8 |
| Cobalt | | |
| EBC | | |
| Endless | | |
| Ferodo | FRP216 | DS2500, DS1.11, DSUNO |
| Hawk | HB110.654 | HPS, DTC-60, DTC-70 |
| Mintex | | |
| Pagid | 1361 | |
| PFC | 7767 | |
| Porterfield | | |
| Project Mu | F1067 | |
| Raybestos | | |
| Wilwood | | |
Ventilated, Domed Back, Stainless Steel Pistons
Stainless steel pistons offer the insulation of ceramic caps, without the fragility of ceramic. They help prevent fluid fade on the track, and been proven over and over again at all levels of motorsport. While the OEM and most aftermarket calipers use a pressed aluminum piston, the Pro5000R's use an expensive machined stainless steel piston.
To add stiffness to the pistons, AP designed the back of the piston with a domed back. At first glance this seems like a trivial design element. It is not. When domed back pistons were introduced in professional racing, driver feedback was immediate and resoundingly positive. The domed back adds considerable stiffness that can be felt through the pedal, and they have now become the standard vs. which all designs are judged.
For even greater heat resistance, there is ventilation on each piston. The air gaps around the piston edge allow for even more cooling air circulation around the pistons. All of these features slow and repel the influx of heat into the brake fluid, preventing brake fluid boiling and fade.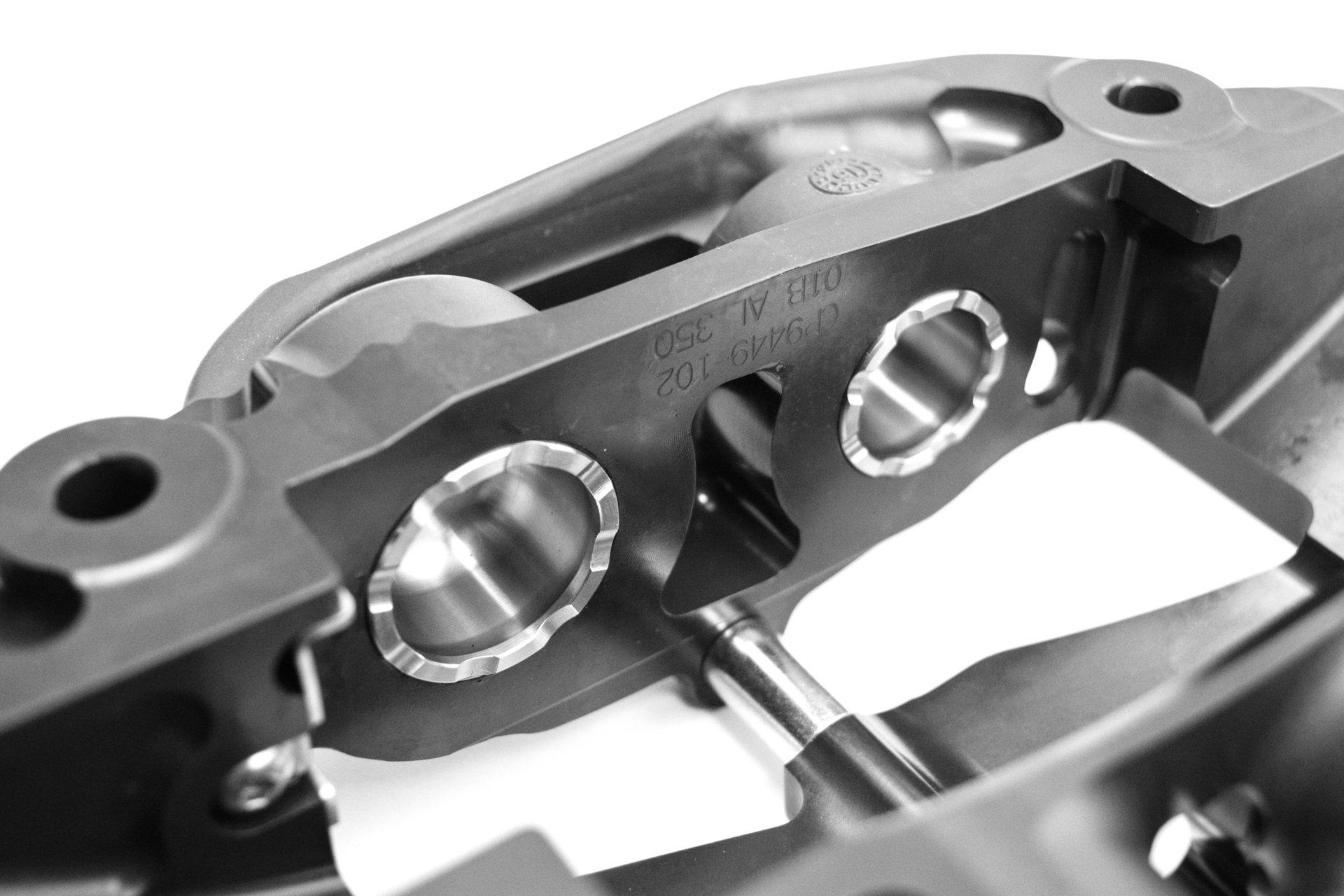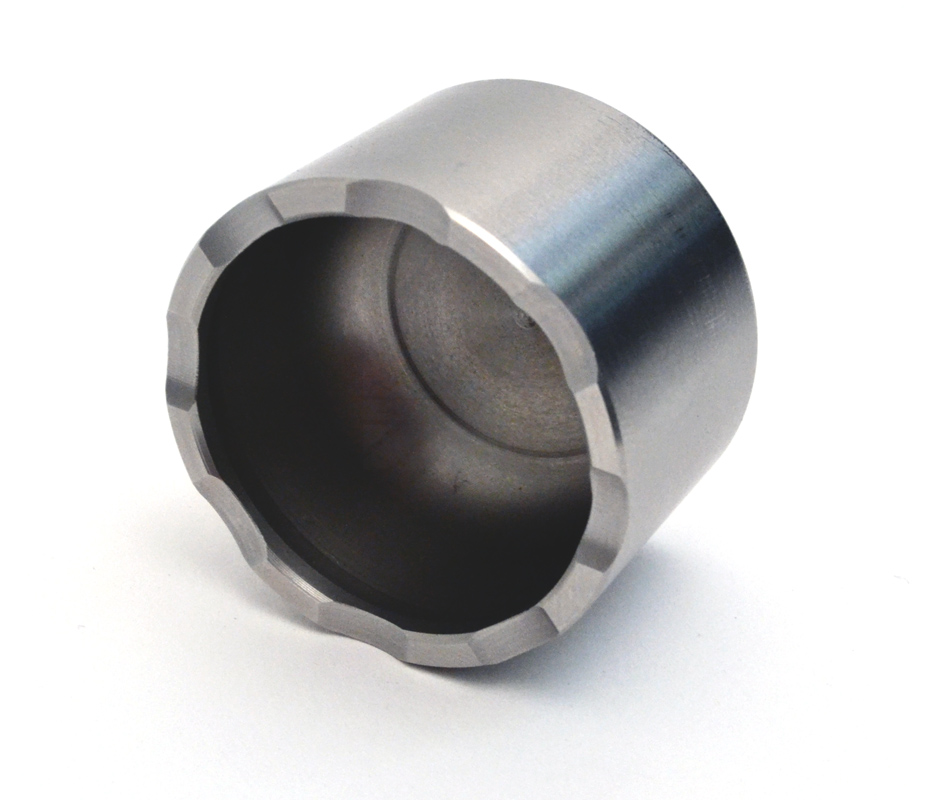 Anti-knockback Springs
Not only are the pistons stainless steel, they are fitted with anti-knockback springs. Springs in pistons you ask? Yes, springs. If you've ever gone through a series of S turns and then had your pedal drop when going into the following brake zone, you have experienced knockback. To say it is disconcerting is an understatement. You'll often see pro drivers 'pre-tap' their brakes lightly when approaching a brake zone. They are fighting knockback.
Knockback is a phenomenon that is common with fixed calipers. Knockback occurs when your car's wheel, hub, and bearings deflect during cornering, allowing your brake disc to move out of sync with your caliper and brake pads. The amount of knockback varies by vehicle, and depends on the amount of deflection seen in the parts listed above. As the brake disc deflects, it actually pushes the pads away from each other, forcing the caliper pistons back into their bores. The piston seals don't have enough tension in them to completely return the pistons to their original location. That means there is slack in the system that needs to be taken up. When you press the brake pedal, it will continue to drop until that slack is taken up.
Anti-knockback springs help alleviate this situation by putting some tension on the back side of the pistons. When the disc deflects and makes contact with the pistons, the springs push the pistons back into their proper location, reducing slack in the system. That means less pedal drop and far fewer pucker-factor moments when going into heavy brake zones.
There are no major downsides to lightweight AKB spring as long as the caliper is designed to accommodate them. More specifically, AKB springs do not create any increased drag or wear on the pads and discs as long as the shape and material of the piston seals takes them into account.
As you're driving the suspension is constantly compressing, the disc is moving around laterally, and the pads are being pushed slightly away from the disc. Think of the seals in the caliper as a spring or hinge attached to the side of the piston, rather than just a ring through which the piston slides. In an AP Racing competition caliper, the groove in which the seal resides isn't a square cut groove.It has angles. When the pistons slide in or out there is friction between the outer piston wall and the seal, and the seal distorts a bit as shown in the illustration below.
A caliper piston sliding out to the left would
distort the seal in this manner (the slashes are the seals on either
side of the piston):
/
—
—
\
As the piston slides back in to the right, the seal does this:
\
—
—
/
There is a certain amount of tension or friction that needs to be overcome before the piston actually starts moving through the seal ring. That tension/friction keeps the piston from dragging on the disc once the pistons are pushed back into the bores by the disc/suspension movement.
When AKB springs are added, a little more force is required to push the pistons back into their bores than would be required without them.After the spring is compressed, it unloads and pushes the piston back to 'neutral.'
With the proper seal and spring the goal is to keep the piston in the 'neutral' position, not pressed against the disc.The piston is still able to slide freely in either direction, but a bit of friction or tension needs to be overcome initially to get it moving in either direction. The seal offers that first bit of friction to limit movement, and then the spring provides additional resistance. The end result is that the properly designed AP Racing calipers won't drag or create additional or unnecessary wear.

High Temperature, Low Drag Seals Without Dust Boots
We are often asked by potential customers if the calipers in our kits require frequent maintenance and rebuilding because the pistons don't have dust boots. We are perpetually shocked by this question because it makes no intuitive sense. If you have a product that is specifically designed to handle the extraordinary high-heat conditions of track use, why would it require more maintenance when used under those conditions vs. brake components that were designed to cruise around on the streets at low speed and temperature?
Many people confuse piston seals with dust boots. All calipers have seals. They're the little rubbery rings inside the piston bores (see pic below). If a caliper didn't have a seal, your brake fluid would leak out around the pistons! OEM caliper seals aren't designed to handle constant trips to several hundred degrees without becoming brittle and leaking. Our calipers use special high-temp seals designed for track use. They are the exact same high temperature seals used in NASCAR Sprint Cup, ALMS, DTM, etc. That means they are less likely to get brittle and wear out when used under high-heat track conditions, and they require far LESS frequent replacement and servicing.
Most aftermarket calipers are designed for year round road use, and as such come with a bellows style external dust boot like the ones shown below. The rubber boot stretches as the piston extends, and its objective is to keep contaminants out of the piston bore. It's a nice concept, but we've seen customers burn those up in a single 20 minute track session! Once that happens, you're simply driving around with some tattered, burnt rubber bits attached to your pistons. At that point they're providing zero benefits to you. If you're going to instantly destroy them when you go to the track, why worry about having them in the first place? We skip making that mess for you by eliminating them from our design.
AP Racing High-Temp Piston Seal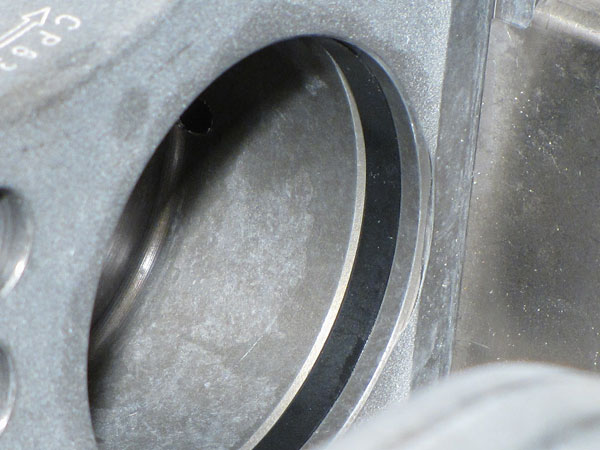 OEM Dust Boot Before Track Use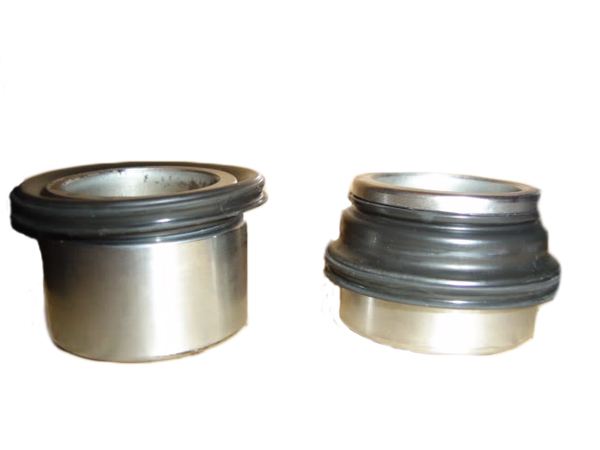 Typical OEM Dust Boot After Track Use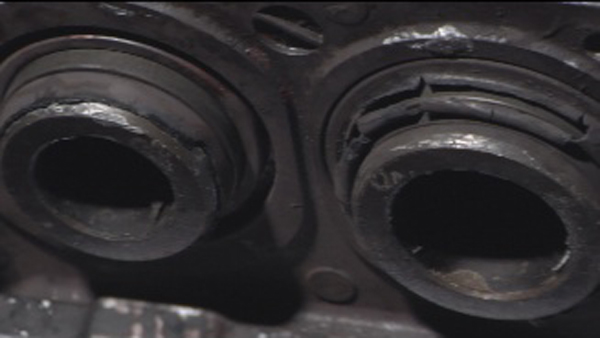 Simple Pad Change with One Bolt
After the countless times you've changed your brake pads, you're probably never too excited when it comes time to do so. Changing pads will no longer be a chore with the Pro5000R's. No more fiddling with a hammer, punch, or pliers. AP's bridge bolts pop out easily with a 6mm hex wrench. It will take you longer to pull off the wheel than it will to change pads. Less time futzing around in the paddock, and more time driving= fun.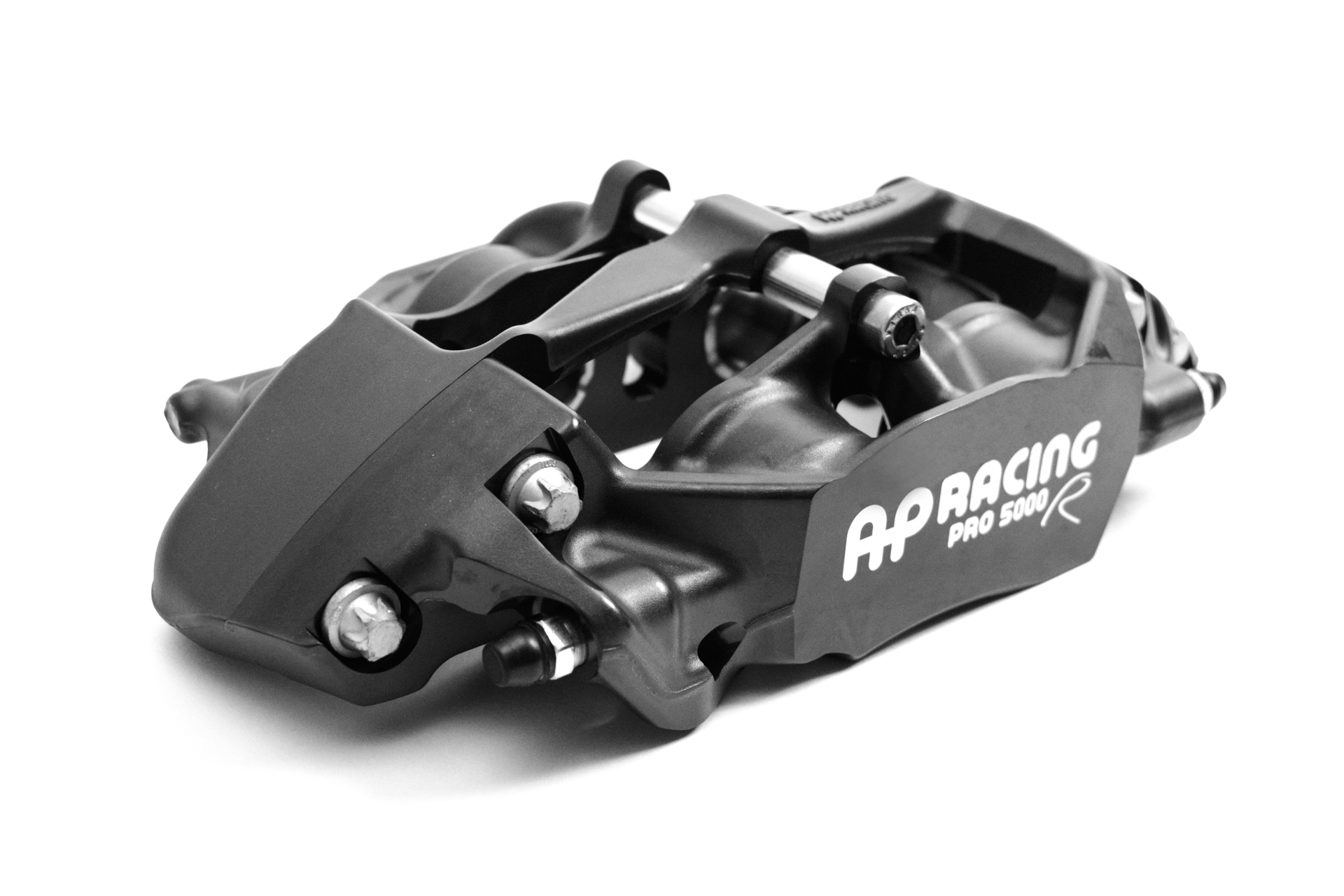 Lifetime Professional Reconditioning Service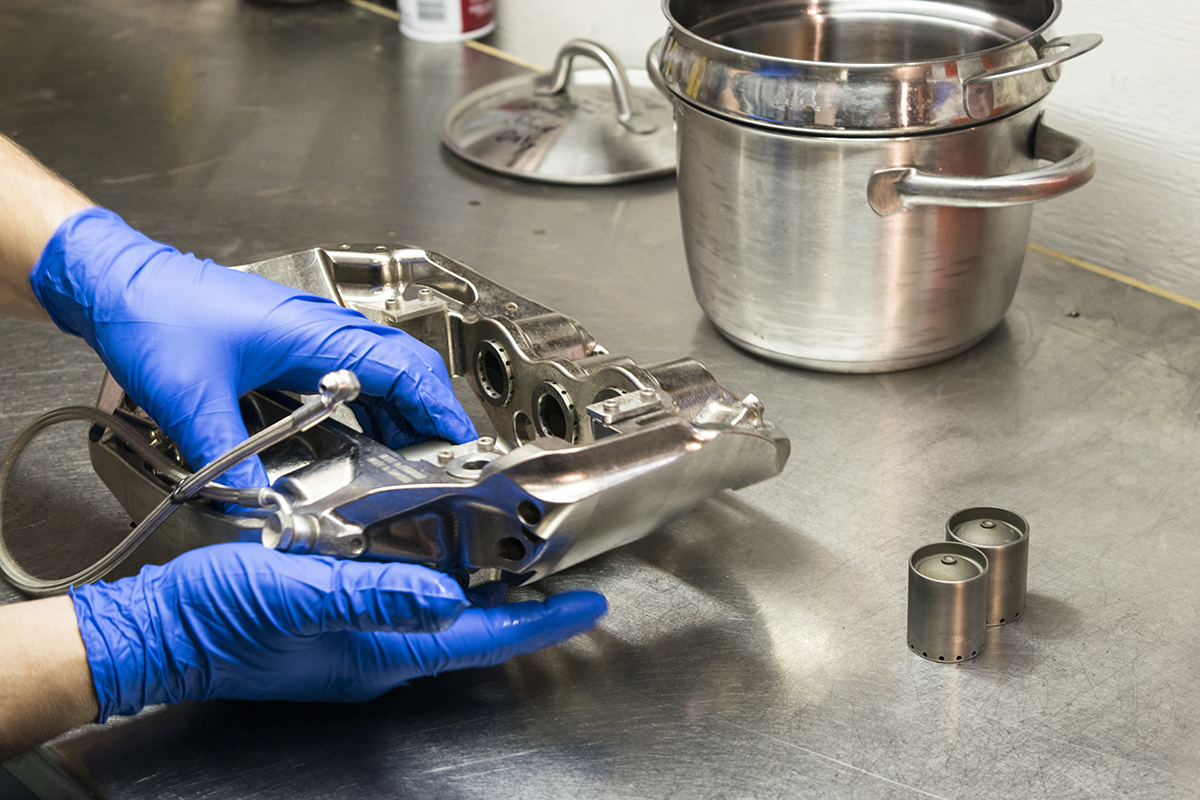 Essex is AP Racing's official North American caliper reconditioning center. We have skilled service technicians rebuilding hundreds of AP Racing calipers each year for the top teams in NASCAR Sprint Cup, ALMS, etc. As an Essex customer, our rebuild service will always be available to you when your calipers need servicing. You simply remove your calipers from the car, drain/clean them, and ship them back to Essex. We take it from there:
Hardness testing: After disassembly your calipers will be Rockwell hardness tested against the standard for that particular caliper type as sold new. This test provides a relative understanding of how much fatigue and stiffness loss your calipers have experienced. Tired calipers lead to pad tapering, increased pad wear, leaky seals, and a loss of pedal firmness, all things you want to avoid. Essex will make a replace or rebuild recommendation based on the results of this test.
Ultrasonic cleaning: After passing the hardness test, your calipers will be placed in an ultrasonic cleaner to remove all dirt, debris, brake fluid, etc. This method produces results that are far superior to what the average racer could accomplish via hand-cleaning.
Inspection and re-assembly: All serviceable parts of the caliper will be inspected and replaced if necessary, including the seals, abutment plates, pistons, and bleed screws.
Cyclical Pressure Testing: After your calipers have been rebuilt, they will be cycled at high and low pressure on a pressure bench to ensure proper functioning. This is important, as certain leaks only show up under specific pressure conditions.
Price: The labor price to rebuild a Pro5000R is roughly $80 per caliper. That does not include parts. Assuming there has been no damage to the caliper, Essex typically recommends replacing the seals ($60) and bleed screws ($15) during the standard reconditioning process. For roughly $160, you can have a fresh, professionally serviced caliper in peak operating condition. You won't get messy, and you'll know the rebuild was done by the same folks trusted by elite-level race teams.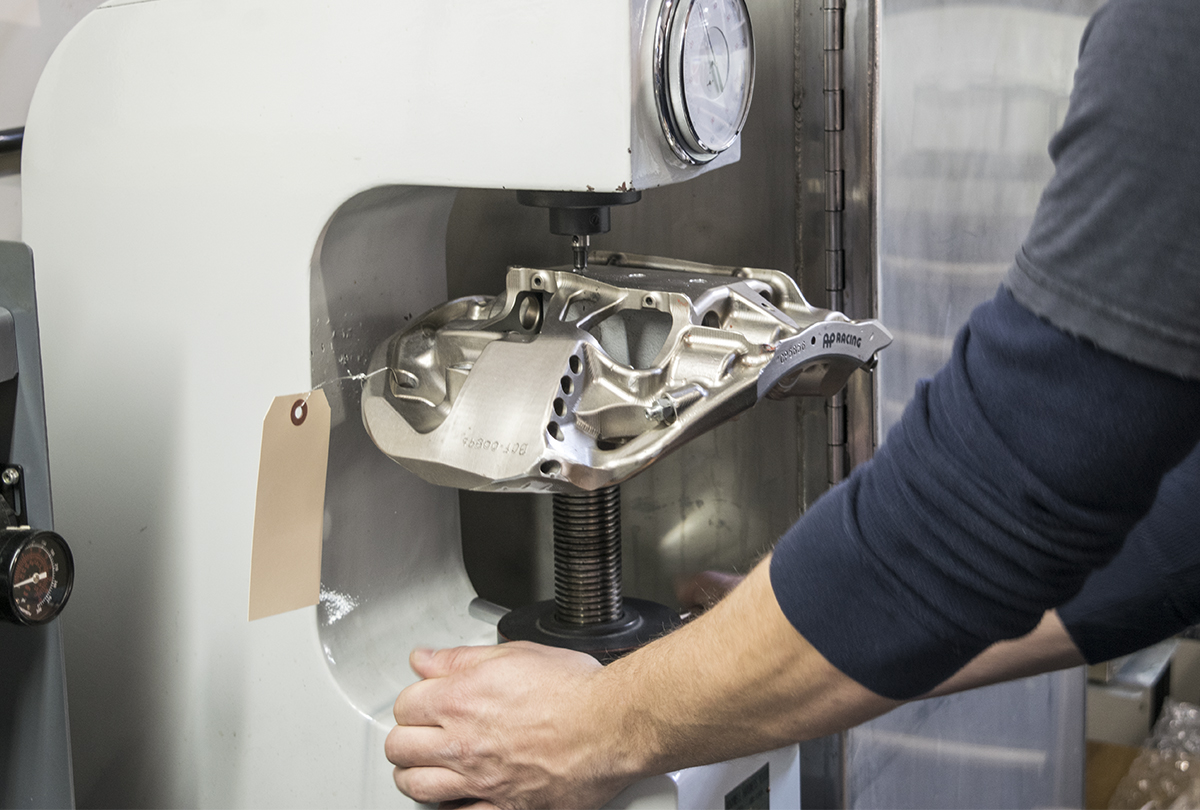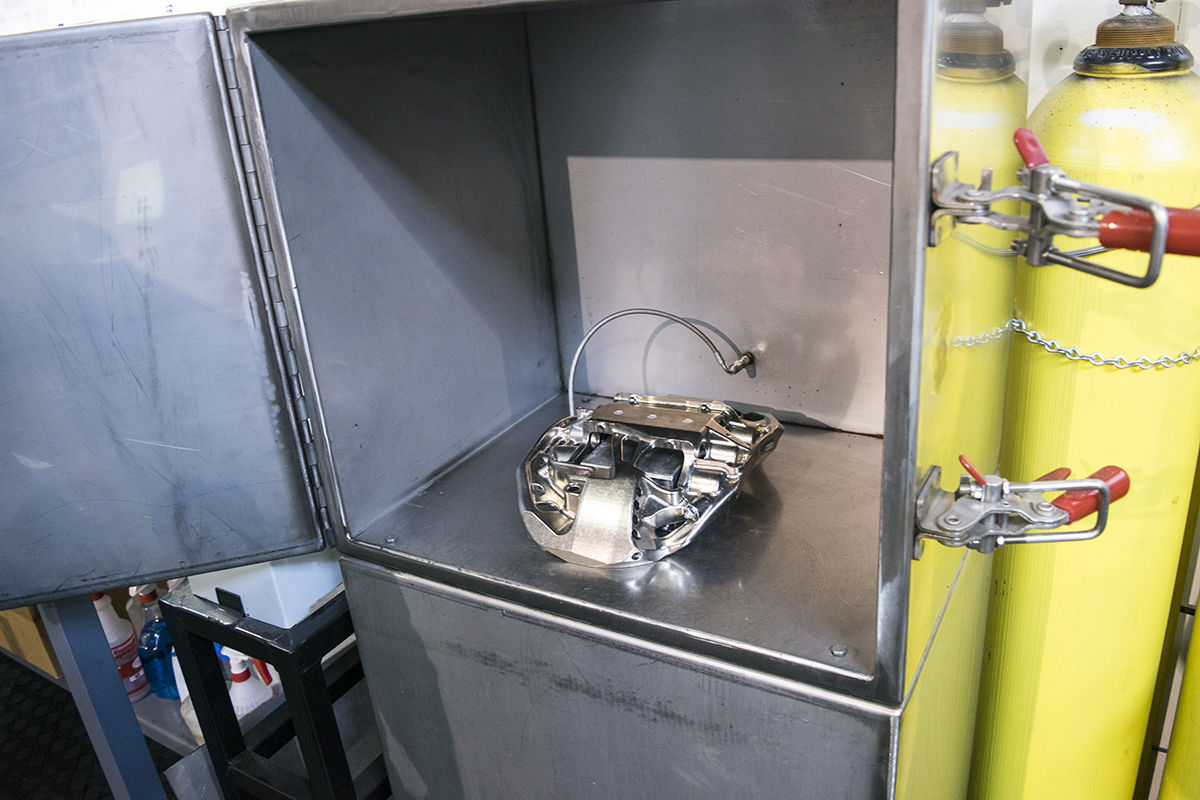 DISCS- AP RACING COMPETITION J HOOK

Iron vs. Carbon Ceramic Brake Discs
In the past few years, Carbon Ceramic brake discs have become increasingly popular on high-end sports cars as either standard equipment or as a factory installed option. Although expensive, they're a great choice for a car that is used exclusively on the street. They save a large amount of unsprung weight, they don't generate much brake dust, have low NVH, and they may even last longer than the rest of the car! For the avid track enthusiast however, they're typically not the best choice.
On the racetrack, repetitive stops from high speeds generate considerably higher brake disc temperatures vs. what could ever be legally or sanely achieved on the street. Various manufacturers producing the current crop of carbon ceramic discs claim to match iron disc durability on the track, but our experience tells us otherwise. While they may be less resistant to warping or deformation at repeated elevated temperatures, the biggest problem with carbon ceramic discs is that they tend to oxidize at track temperatures, showing rough surface eruptions on the disc face. In some cases the oxidation is terminal (chopped fiber discs), and the discs must be scrapped once it occurs. In other cases (continuous fiber discs), the discs can be resurfaced, but only a limited number of times and at a high cost. Most carbon ceramic discs are measured in terms of minimum mass, rather than the traditional minimum thickness used to measure iron discs. Once the minimum mass is reached, the carbon ceramic disc is trash.
Below is an oxidized carbon ceramic disc. Notice the dark spots in which the surface is flaking off / eroding. When your disc looks like this, it has become a $2,000 paperweight!

Other Potential Pitfalls with Carbon Ceramic Discs:
Low airflow- If you look at a specific car model that offers both iron and carbon ceramic discs as an option, the carbon ceramic discs will almost always be considerably larger in overall dimension, with a specific emphasis on a tall radial depth (distance from outer disc edge to inner disc edge). Whereas an iron disc uses a web of directional internal vanes to speed airflow through the disc, most carbon ceramic discs rely primarily on their large surface area to radiate heat into the air surrounding the disc. Hence, the tall radial depth.
Expensive and limited range of compatible brake pads- There aren't many brake pad options with carbon ceramic discs. The pads must be compatible with the specific disc material being used, and if they aren't, they can destroy the discs in a hurry. Since brake pads are a very personal choice to most track junkies, carbon ceramic discs don't provide many options for the driver to chase a desired feel. Also as noted above, carbon ceramic discs tend to be very tall radially, which means very large brake pads are required. In the world of brake pads, price is usually directly proportional to size: Bigger = more expensive.
Poor feel- Experienced drivers will tell you that cast iron discs provide superior pedal feel due to less compress-ability. Some drivers find that carbon ceramic discs feel soft or abrasive at lower temperatures, but feel like stone with little modulation once they heat up. Feel and the resulting confidence is rather important when hurtling towards a guardrail at 150mph!
High replacement disc cost- Carbon ceramic replacement discs can be hideously expensive. If you do wear out or damage a disc, it can cost thousands of dollars to replace each one. When running carbon ceramic discs hard on a racetrack, the odds of having to replace one or more of them increases exponentially vs. if you only drive your car on the street.
Damage-prone- Many manufactures suggest covering their carbon ceramic discs when handling them, so they are not chipped or fractured. One knock when changing a wheel can destroy a disc. Additionally, some chemical wheel cleaners or abrasives used in car detailing can damage carbon ceramic discs.
Splinters- Carbon ceramic discs shouldn't be handled with bare hands, as they can leave carbon splinters in the skin.
Greater sensitivity to burnishing/bedding-in- Most manufacturers have an explicit, and sometimes intricate, set of instructions for bedding-in their carbon ceramic discs. Iron discs can typically be prepared via a simple series of stops from 60-80 mph with the brake pad of choice.
Carbon Ceramic is NOT Carbon/Carbon
At this stage you may be saying to yourself, "But I saw that the XYZ professional race cars were running carbon brakes at the track." The carbon brakes currently being used in professional racing are carbon/carbon (abbreviated C/C), which is actually a different material vs. the carbon ceramic discs used on road cars. The carbon ceramic brake discs on road cars are a Carbon Ceramic Matrix (CCM). In recent times many professional racing series (F1, ALMS, IRL, etc.) have switched to carbon/carbon brake discs in an effort to reduce weight. Carbon/Carbon is an outstanding lightweight material for racing, but requires heat before it starts to generate usable friction. As such, they're completely ill-suited to a typical morning commute in a road car!
Iron Disc Benefits
So what can AP Racing J Hook iron discs do for a car previously equipped with carbon ceramic discs?
Increased airflow and slower heat transfer to other brake components- AP Racing J Hook discs have a unique, high-count vane design that promotes airflow, heat evacuation, and rapid cooling. They don't rely on a large surface area to cool via radiation. The iron discs will move more air than your carbon ceramic's, and as a result they won't heat your brake pads, caliper pistons, and brake fluid up as quickly. You'll be able to run longer sessions without brake fade, and you'll enjoy the confidence that comes along with them. They'll also make any brake ducts that you have on the car more effective and useful.
Huge range of compatible brake pad compounds- Iron discs will open up a much greater range of available brake pads. You'll be able to achieve a different feel, and tailor your brake setup depending on your needs and environment, whether that is running an AutoX or the most demanding racetrack in your area. You'll also likely be paying less per brake pad set than you were previously, and your pads will last longer.
Inexpensive spare discs- You'll no longer have to spend thousands of dollars when it's time to replace your discs. AP Racing J Hook's typically only cost $300-500 per iron disc ring, so you won't have to stress about anything happening to them. They're inexpensive enough that you can always keep a spare set on hand, so you won't have to worry about any brake-related downtime when you're out at the track.
Durability- Iron discs can take a beating. You can stash your spares in your race trailer, and you won't have to worry about handling them, covering them, dinging them, or chipping them when changing your wheels.
As you can see, although iron discs do come with a slight weight penalty, they're still the smart choice if you run your car hard on the racetrack. They're the obvious solution that has been proven countless times on tracks around the world, at all levels of motorsport. The AP Racing J Hook discs in our system are the epitome of endurance racing components. They will hold up extremely well to any abuse you plan to throw at them. These discs have been proven time and again in professional racing, winning many races and even championships (ALMS, Rolex, Grand Am, etc.).
The AP Racing J Hook discs in our system are the epitome of endurance racing components. They will hold up extremely well to any abuse you plan to throw at them. These discs have been proven time and again in professional racing, winning many races and even championships (ALMS, Rolex, Grand Am, etc.)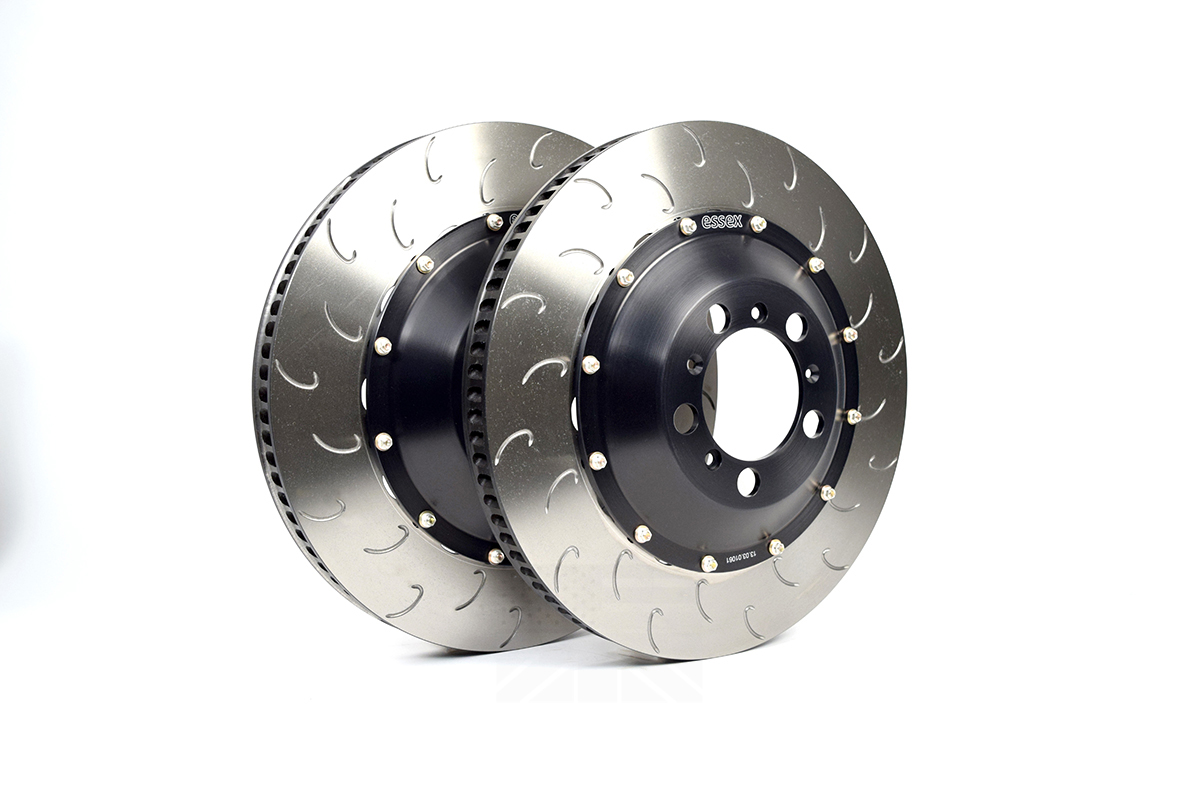 Two-piece Floating Design with Aluminum Hat
As is the case with most metal, iron brake discs grow substantially when heated. As it is heated, a disc expands radially, increasing in diameter and circumference. One-piece disc designs run into problems when this occurs. Look at the picture below and imagine the disc is being heated on the track. As the disc expands, the outer edges of the disc are pulling away from the center of the disc, but there are no built-in provisions to allow for that expansion. The edges of the disc therefore pull, lift, and distort, which is called coning. Now imagine that disc vertical on the car, running in your caliper. Coning directly impacts the brake pads' contact with the disc, leading to uneven wear and tapering, and even a long brake pedal.
Two-piece discs on the other hand, compensate for the expansion of the disc as it heats. This is accomplished by building 'float' into either the disc itself, or the disc hat/bell. In this case, the float is in the disc. If you look closely at the picture below, you can see that the mounting holes for the hat attachment bobbins are not round. They are an oblong shape. These channels allow the hat mounting hardware to slide as the disc is heated and expands, allowing the disc to run true in the caliper without distortion. That means less distortion, stress cracks, and pad taper.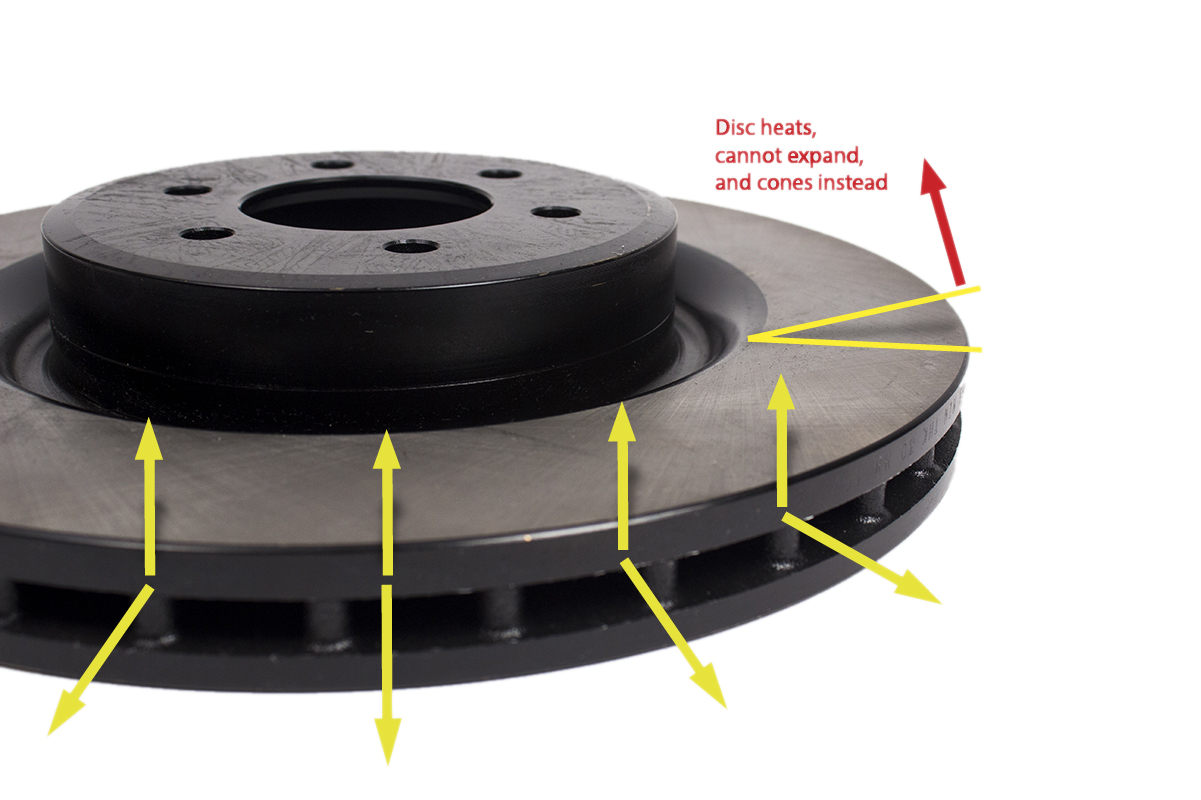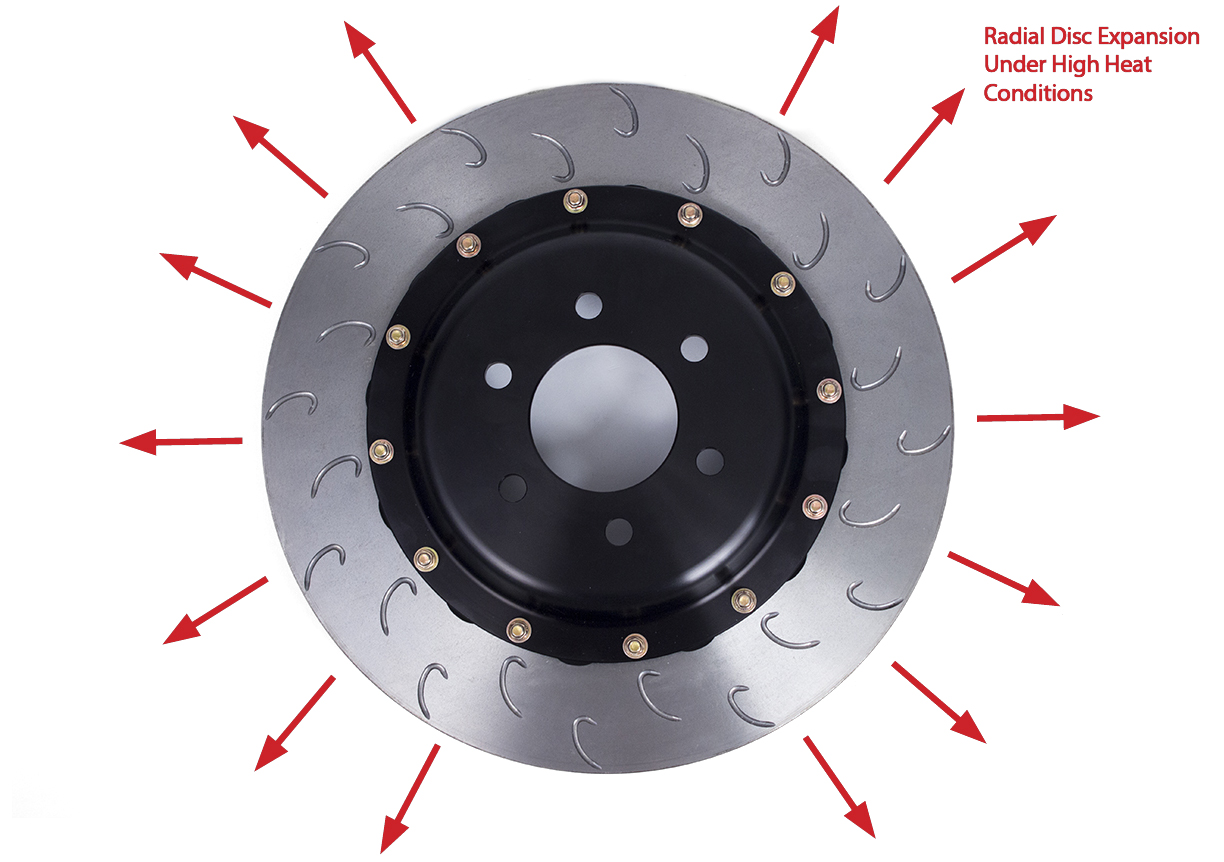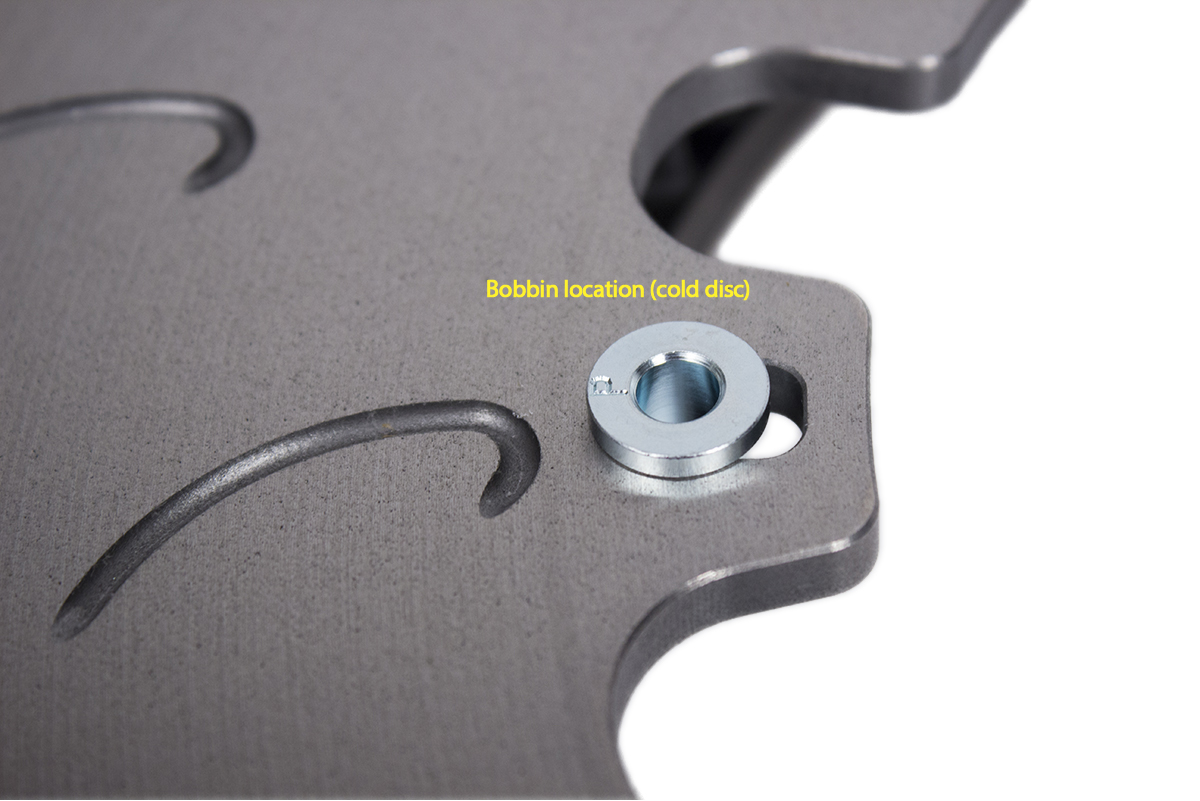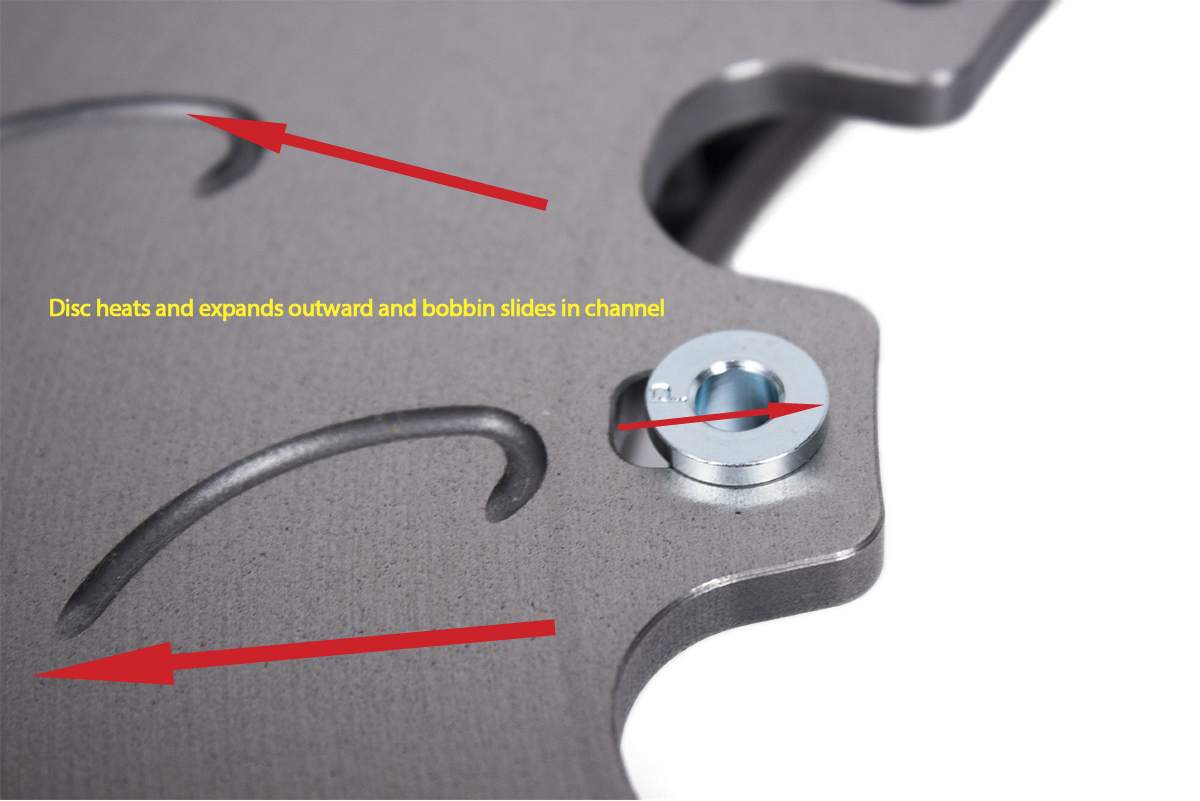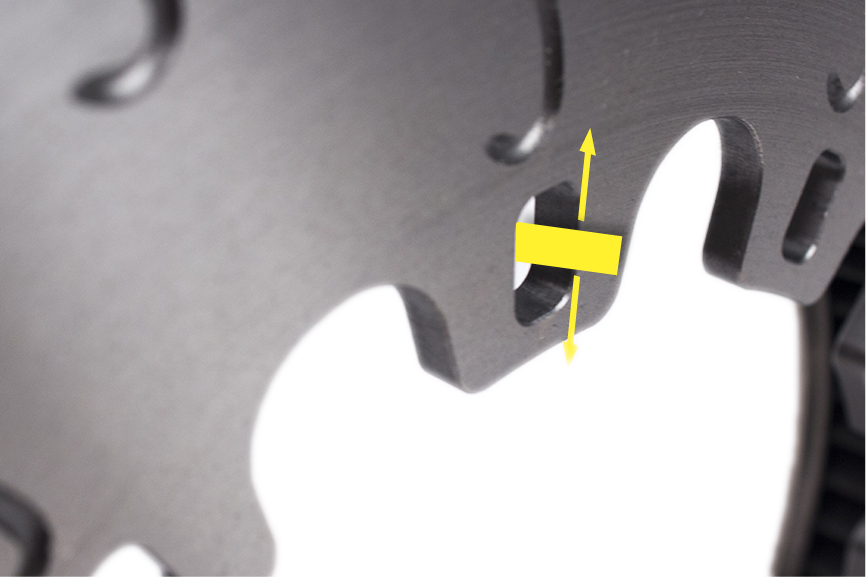 Mounting Hardware and Anti-Knockback Spring Clips
If you look closely at the mounting hardware we use in our Competition Kits, you'll notice a few details that are often overlooked in lesser products. These components are specially made for their intended purpose. These are not cheap bolts found at your local big box store. They are custom made in the USA for Essex and AP Racing, and they are the exact same components we use on professional racing products.
As discussed above with regards to the piston springs, knockback can be a serious issue when tracking a car. In order to help control the lateral motion of the disc, which pushes the pistons back into the caliper, we use an anti-knockback spring clip on every other disc attachment point (on a ten bolt disc there are five spring clips, while on a twelve bolt disc there are six). These spring clips help keep the disc hat and iron ring in alignment, while still allowing the disc to expand and float radially. As an added bonus, they prevent the hat and iron disc from rattling and making noise.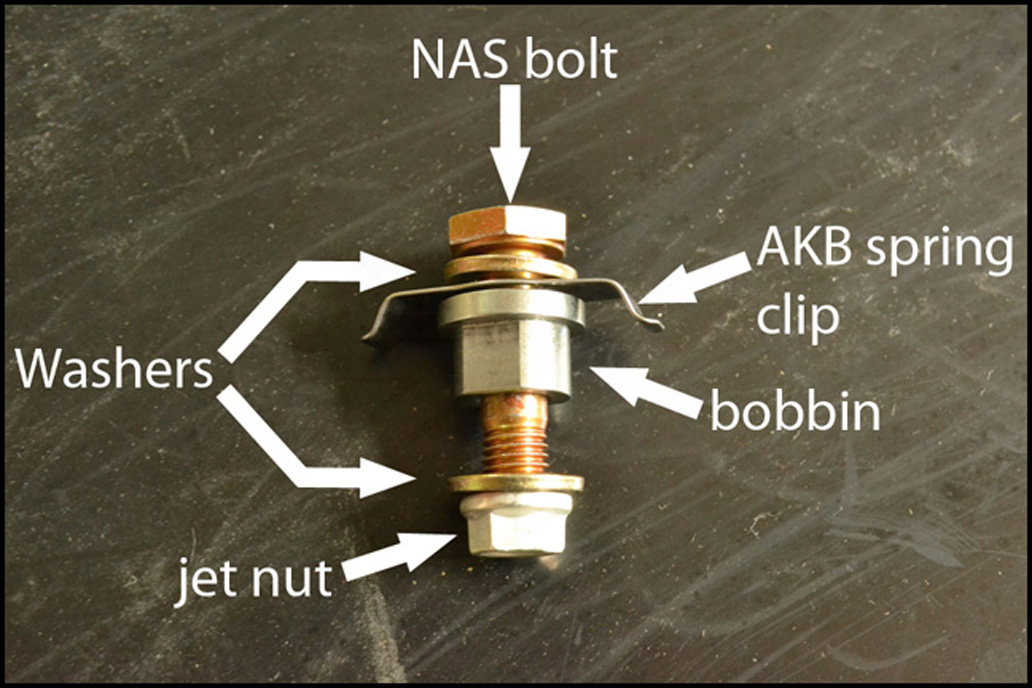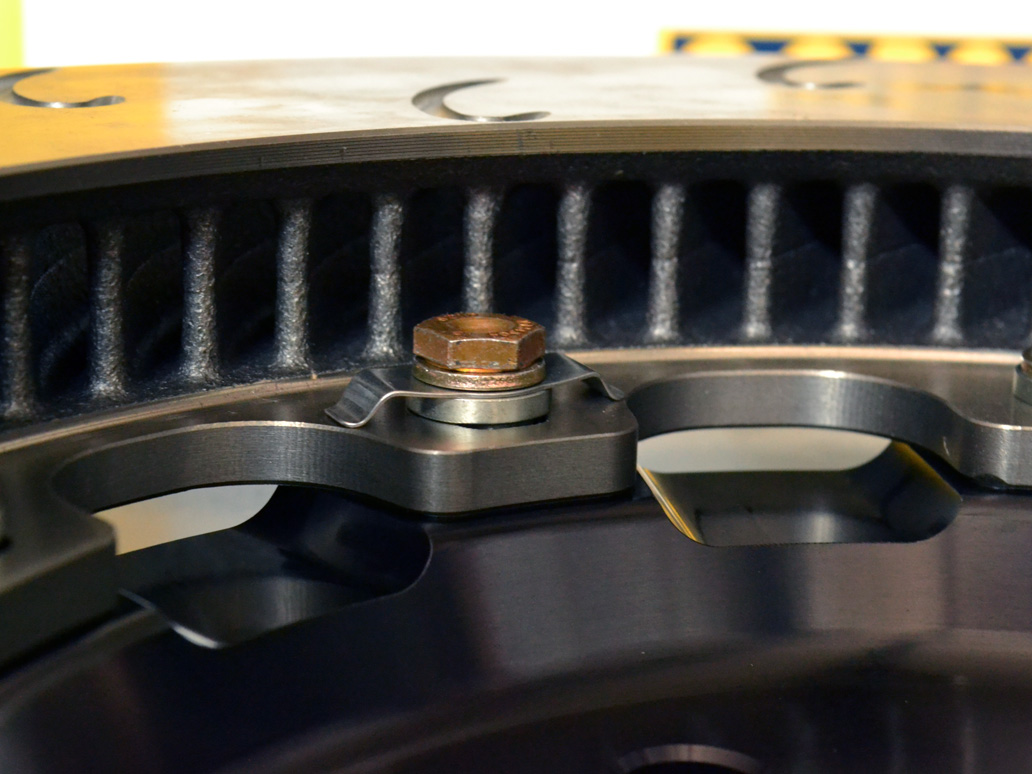 Hat Design
Floating two-piece discs also have the added benefit of reducing heat conduction to the hubs and bearings, decreasing wear and tear on these costly components. The disc hats themselves are manufactured from 6061 heat-treated billet aluminum, with a hard anodized coating. This material was specifically chosen for its strength at high temperatures, as it will be in direct contact with the searing hot iron discs. The hats feature scallops on the underside, to allow for heat evacuation along the outer disc face once installed.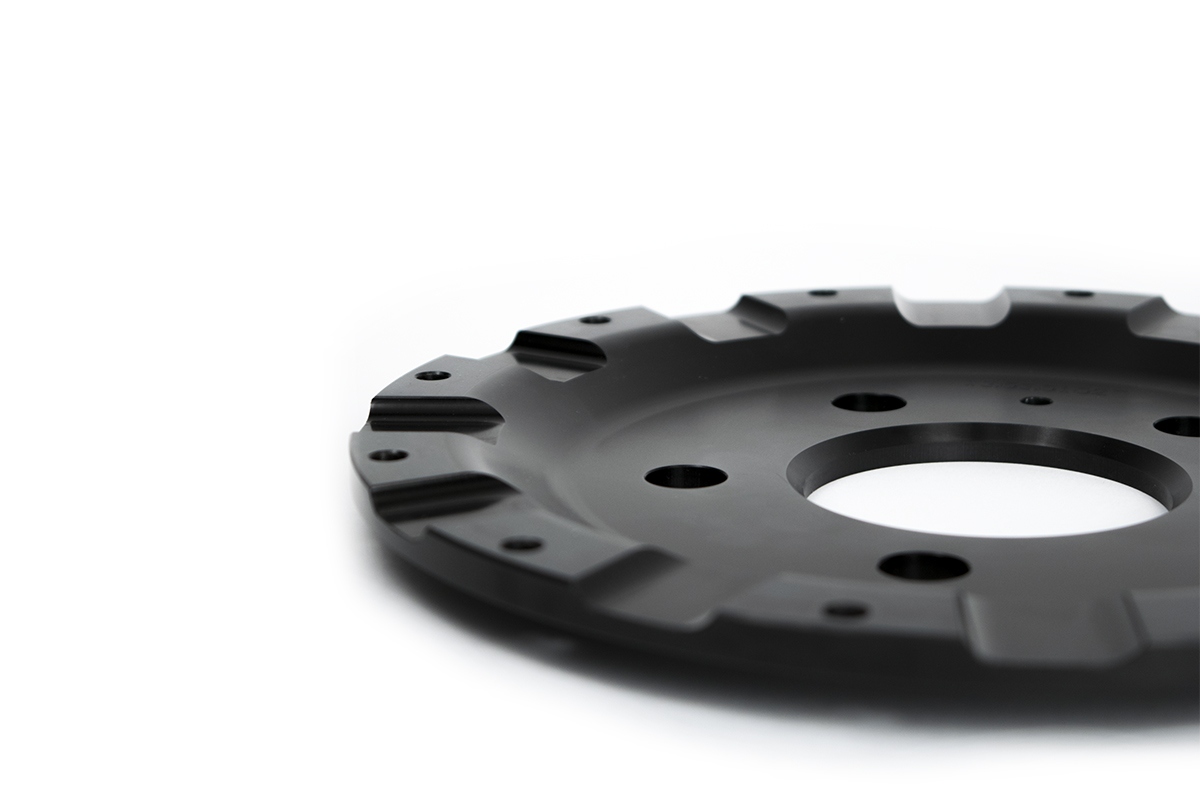 Internal Vane Quantity and Quality
The internal vane design on AP J Hook discs is quite a bit different vs. OEM-style discs and other brands of aftermarket discs. Many OEM discs feature a pillar vane design, which can be thought of as a group of posts or pillars connecting the two disc halves together (see pic below). The pillars are not organized linearly from the outside to the inside of the disc, and turbulence is created as air flows through and among them. Pillar vane discs are therefore not particularly well suited to heat evacuation. The goals of a pillar vane design are disc face stability for low NVH (Noise, Vibration, Harshness), and a low cost of production. Pillar vanes are non-directional, and the same part number is used on both sides of the car (again for cost reduction). Other OEM discs feature a straight, non-directional internal vane. While that type of vane flows more air than a pillar, it does not move nearly as much air as the directional vanes featured in AP Racing's discs. Having directional vanes means that AP Racing discs are handed. There is a unique left disc and a right disc in each pair, and they cannot be swapped from side-to-side on the car. The orientation of the vanes is optimized to spin in a certain direction, pumping the maximum amount of air possible through the disc. The shape of these internal vanes is also optimized to promote smooth airflow.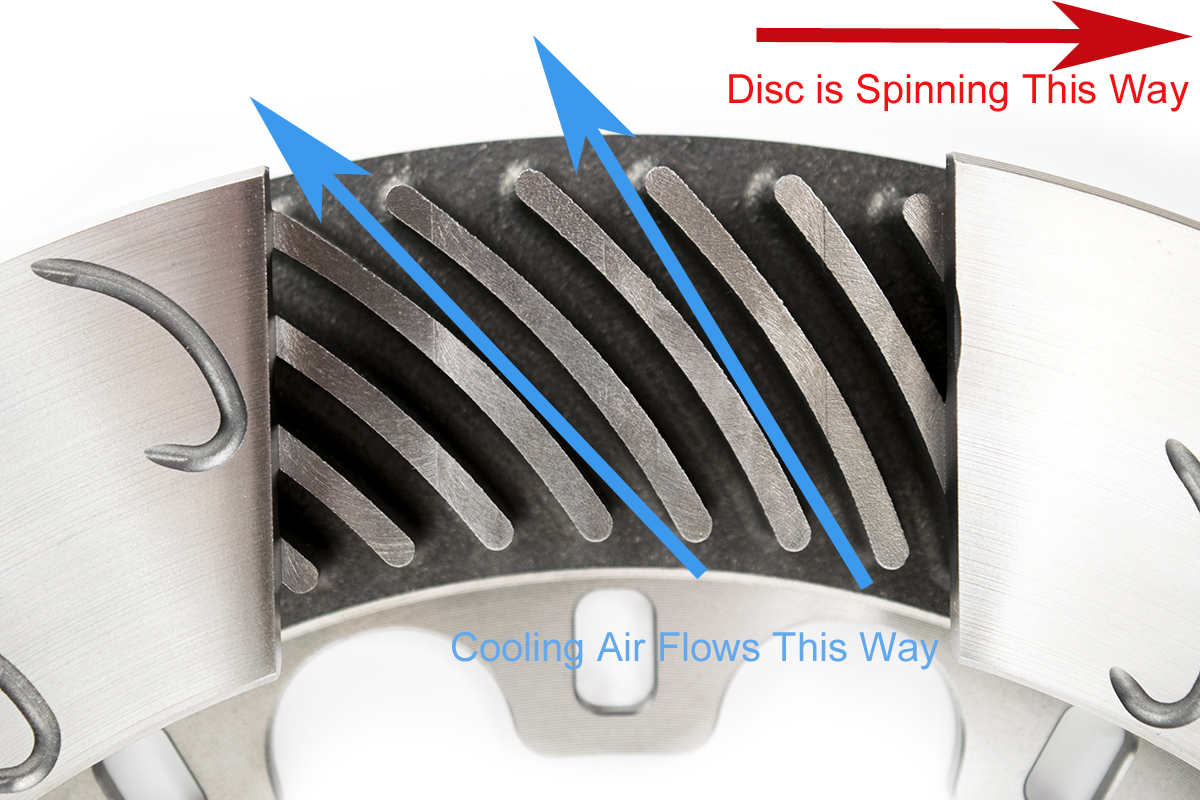 Exclusive AP Racing J Hook Slot Pattern
When you cut a slot or drill a hole in a disc you impact heat transfer. The area around the slot or hole acts as a cool spot when the disc heats up, which is not ideal. Ideally, heat is distributed uniformly around the disc so it can be hit with the cooling air that is pumping through the disc, radiate outwards away from the disc, etc. Cool spots create stress risers and increase the likelihood of the disc cracking. They also cause the face of the disc to distort unevenly, leading to uneven pad deposits, vibration, and judder.
The OEM discs avoid this problem by simply leaving the face blank. While the risk for NVH goes down, so does the pad bite and feel of the disc through the brake pedal. Competitive aftermarket offerings typically have straight slots, which tend to leave cool spots across the disc face between the slots.

During exhaustive R&D testing, AP's J Hook design was found to create a constant pathway of evenly distorted material on the face of the disc. The hooks are spaced out as evenly as possible both around the circumference of the disc, as well as from the inside edge (where the hat attaches) to outer edge, with a slight overlap to promote even heat distribution/distortion. In addition to reducing cracking, the even heating of the disc also helps provide an even transfer layer of pad material on the disc when you bed them in.
Additionally, the J Hook slot pattern produces a greater number of leading edges for the pads to bite into vs. a traditional curved slot pattern, and particularly a plain-faced disc. While this may lead to slightly more whirring or scraping noises from the discs when applying the brakes, the benefits of more even heat distribution, less propensity to crack, cleaner pad material transfer during bed-in, and more bite far outweigh the slight increase in NVH for the serious enthusiast.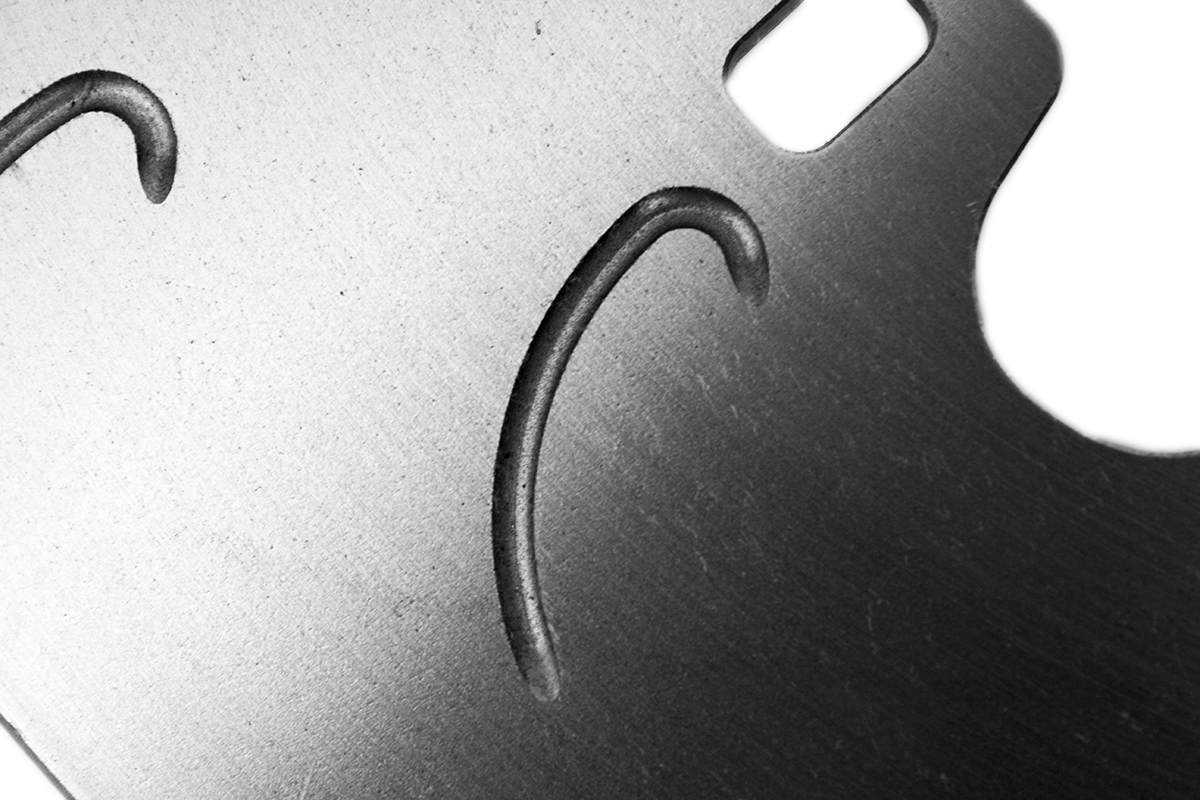 Complex Metallurgy Developed Through 50+ Years of Experience
AP Racing has been designing brake components for more than 50 years. They've had their components on cars that have won more than 750 Formula 1 races! On any given race weekend, AP J Hook discs can be found on 75% or more of the NASCAR Sprint Cup grid. AP has learned from these experiences, and have developed a proprietary iron alloy with extreme durability, designed specifically for what you intend to do with it (flog the hell out of it). The primary objectives with OEM discs are simple: they must be cheap and easy to produce. The design objectives for these two products are vastly different.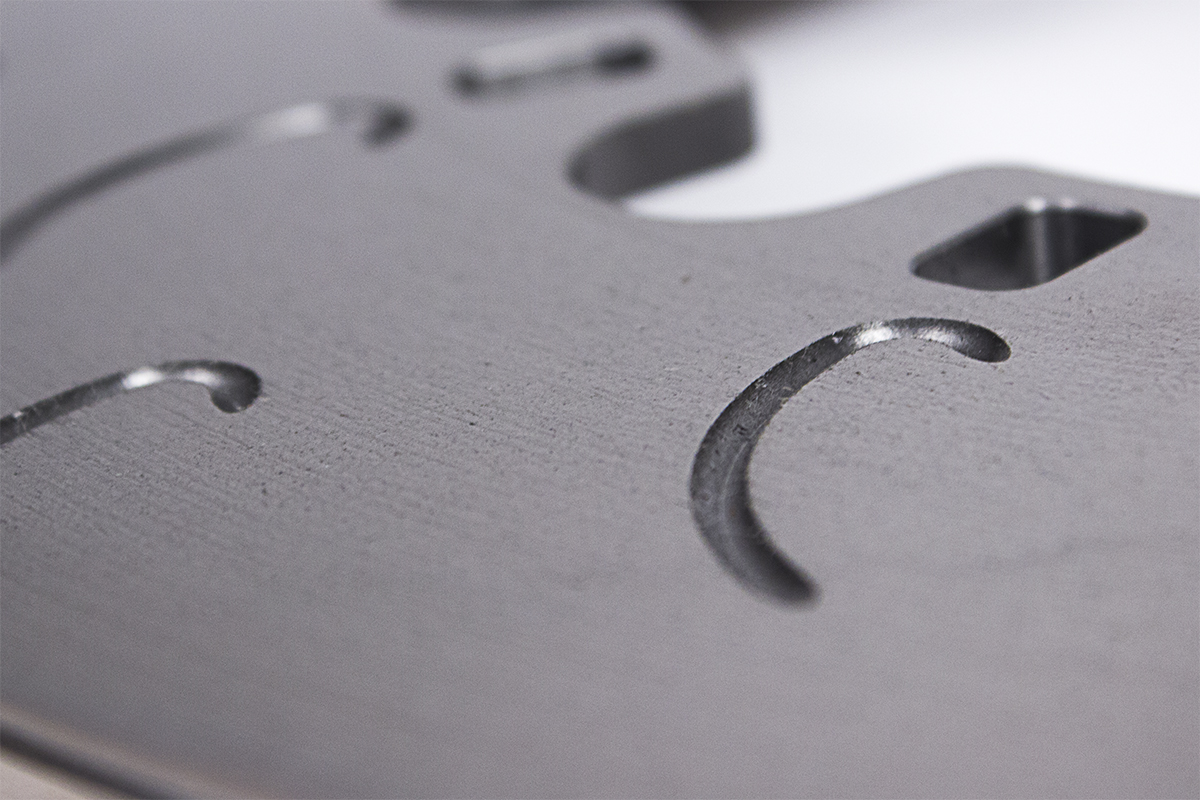 Disc Burnishing/Bedding Service
If your brake discs aren't being properly prepared for abuse prior to flogging them on track, you're exposing yourself to potential judder, vibration, and cracking issues. We all know that prepping your pads and discs at the track can be difficult. Doing so wastes time during the first session of the day, and it's a hassle and potentially dangerous for other drivers as you go through the procedure. Track time is expensive and tough to come by. The more time you spend behind the wheel performing an elaborate bed-in procedure, the less time you'll spend doing hot laps. Performing the procedure on-track also limits its repeatability. You can't control what's going on around you with track conditions, other drivers, etc., and many track configurations don't really lend themselves to the constant start/stop/start required to do the job properly.
Essex is now offering a solution via our professional burnishing service. Previously reserved for our professional racing customers, we are now offering our retail customers the option of having the discs in select Competition Brake Kits pre-burnished at our factory. We burnish thousands of discs for the top racing teams each year. After countless hours of experimentation, and extensive feedback from the top drivers and teams, we can consistently squeeze the most reliable performance out of AP Racing's discs. The procedure is incredibly repeatable, as it is performed on a computer-controlled machine by experienced technicians. The cost of our burnishing service is $50 per disc ($100 per brake kit).
Please note that the pads you receive will not be pre-burnished. In other words, the pads and discs do not have to be a matched set burnished together to reap the benefits the procedure has on the discs. In other words, we will burnish the discs in the pad compound you choose, they just won't be burnished with the exact set of pads that will arrive with your kit.
Watch a brief video of our disc burnishing service here.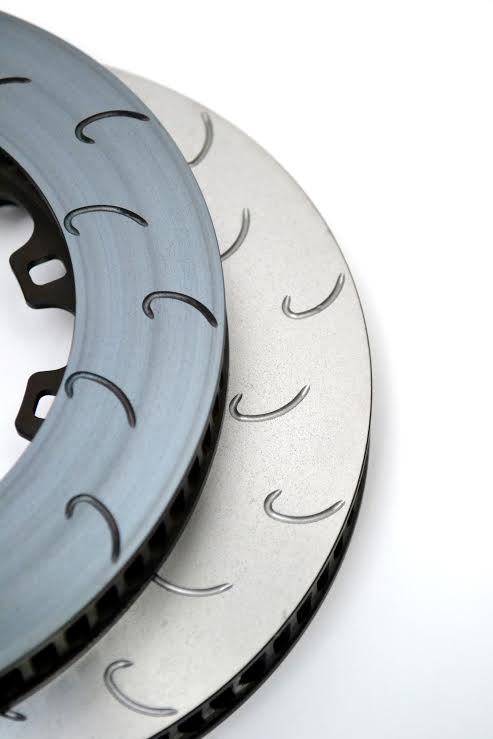 Caliper Brackets & Hardware
Caliper mounting brackets are machined from heat-treated 6061 T6 billet aluminum. All included hardware is of aircraft quality, and identical to what we use in professional racing.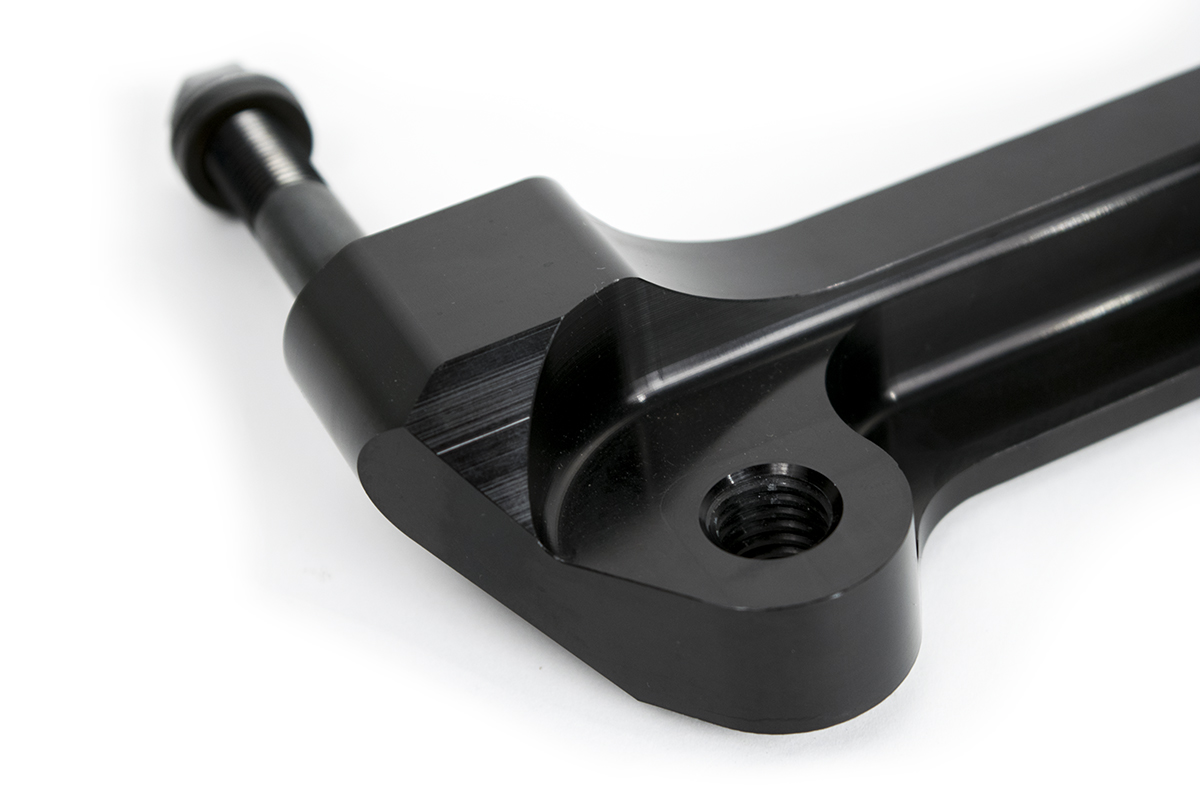 Brake Ducting
Essex does not recommend aftermarket brake ducts with our Competition Brake Kits. In our experience, packaging issues make it nearly impossible to pipe an adequate amount of cooling air from the nose of the car into the center of the discs. The duct hoses are typically too narrow, and there isn't enough room for properly-sized hoses to clear the tire in the fender well. Many systems also direct cooling air to the incorrect location, which can create uneven cooling and temperature gradients throughout the disc, which leads to premature cracking. Finally, the plates used to attach brake ducts at the wheel hub frequently trap heat against the inner disc face, creating a systemic temperature increase. As such, we do not recommend aftermarket brake ducts.
If your vehicle has an OEM brake duct that dumps air into the wheel well, and or a series of air deflectors inside the wheel, it is fine to leave them installed. If you have installed your Essex Designed AP Racing Competition Brake Kit, collected data, and believe it is running hotter than expected, please contact us to discuss your options.
Please also note, DO NOT BOLT ANYTHING BETWEEN THE CALIPER BRACKET AND THE SUSPENSION UPRIGHT! Any ears or tabs from a brake duct system bolted between the bracket and the upright will malign the caliper from its intended orientation, causing potentially serious damage to the entire brake system or car. The bracket should be directly bolted to the upright as intended, with nothing sandwiched between the two.